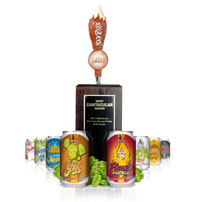 PHILADELPHIA, PA — CROWN Beverage Packaging North America, a business unit of Crown Holdings, Inc. (NYSE: CCK) (Crown) (www.crowncork.com), received the 'Most Cantacular Award' for 2012, from Sly Fox Brewing Co., of Pottstown, PA. The award salutes the companies, people and places that help advance the packaging of craft beer in cans and was presented at the Sly Fox Brewing Company's Can Jam festival.
"As craft brewing continues to expand in the United States, so do the opportunities brands have to use packaging to stand out on the shelf," said Brian O'Reilly, Brewmaster, Sly Fox Brewing Company. "Cans enhance the quality of beer, and they give brewers a chance to differentiate their brand through packaging. Crown has demonstrated enthusiasm and professionalism when it comes to helping breweries convert to cans and leverage the format to create new drinking occasions and help grow sales."
Sly Fox became the first craft brewery in the Mid-Atlantic region to package its beer in cans in 2006 and the awarding of a Gold Medal to Sly Fox Pikeland Pilsner at the 2007 Great American Beer Festival in Denver marked the first time a GABF medal of any sort was won by a canned craft beer.
Events like Cantacular reflect the craft brewing industry's increasing awareness of the benefits that metal packaging has to offer. Cans do not shatter, providing better physical protection for the craft beer versus alternative formats, as well as protecting the flavor of the beer by not allowing light or air to enter the package. Cans help protect the integrity of the brand and are also easy to pack, portable, and take up less space than packaging alternatives. In addition, environmentally-conscious shoppers can rest easy, knowing that metal is 100% and infinitely recyclable.
"At Crown, we've actively supported the adoption of aluminum beverage cans by the craft beer industry, committing ourselves to the best technical and customer service possible, and working with brewers right from the onset of the canning process," said Neill Mitchell, Vice President Marketing and Strategic Development at CROWN Beverage Packaging North America. "With a strong team of experts to provide advice on canning and seaming, we work closely with brewers new to beverage cans to help them understand the filling and packaging equipment they will be using and how to use it properly."
Deeply connected to the craft beer industry, Crown tailors its processes to meet requirements, such as customizing orders and considering the need for smaller shipments. Additionally, Crown invests time and effort to help brewers understand how beverage cans are different from other packaging formats that they might already be familiar with, particularly with regard to graphics.
All nominees for the Most Cantacular Award undergo formal review, after which a committee of passionate craft beer and can enthusiasts selects the winner and runners up.
About Crown Holdings, Inc.
Crown Holdings, Inc., through its subsidiaries, is a leading supplier of packaging products to consumer marketing companies around the world. World headquarters are located in Philadelphia, PA. For more information, visit www.crowncork.com.