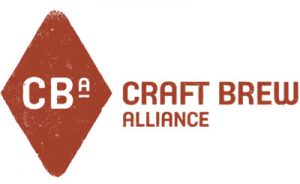 PORTLAND, Ore. — Craft Brew Alliance, Inc. ("CBA") (Nasdaq: BREW), a leading craft brewing company, announced today the release of its fourth Annual Sustainability Report, providing an in-depth look at the company's accomplishments in three focus areas: carbon intensity, waste prevention, and local community giving. As one of the largest craft brewers in the U.S., CBA is committed to being a leader in sustainability through ongoing efforts that include benchmarking its carbon emissions, maintaining one of the lowest water usage rates in the industry, partnering with suppliers to source more sustainable packaging, and investing in biopower to generate renewable energy. In 2016, the company also set three-year sustainability targets as part of its strategic World Class Craft initiative.
"2016 was a great year in terms of advancing our commitment to sustainability, tracking our impact and setting three-year goals to minimize our carbon footprint and support our local communities as we brew great-tasting beer," said Julia Person, Corporate Sustainability Manager, CBA. "Across our breweries, we made important strides forward in our three focus areas – reducing our greenhouse gas emissions, getting closer to zero waste, and community involvement. We look forward to putting this report together each year as it gives us the opportunity to share our goals and progress – as well as some of our beers — with our employees, partners and consumers."
2016 CBA Sustainability Report Highlights
We completed our first Lifecycle Analysis on a bottle of beer to understand our biggest opportunities to reduce our carbon footprint. One bottle of Kona Longboard Lager brewed in our Portland brewery generated 392 grams of CO2 emissions, which places us well within the environmental benchmark.
Kona Brewing helped raise over $240,000 to support local Hawaiian non-profits, including the Surfrider Foundation, Sustainable Coastlines Hawaii, Mālama Maunalua, and the Hawaiian Legacy Reforestation Initiative.
Our Portland brewery, our largest brewing facility, achieved 22.6 lbs. of Scope 1 & 2 carbon emissions per barrel with the help of the Energy Trust of Oregon. We also restored nearly 10 million gallons of water with Water Restoration Credits through partnering with Bonneville Environmental Foundation and sent 13,000 tons of spent grain to local farms, which helped us divert 99.5% of our total waste from landfills.
Companywide, we reduced paper usage by more than a third through our PaperCuts initiatives, which saved 627,000 sheets of paper, the equivalent of 53 trees.
Our Portsmouth brewery ran on 100% renewable power in 2016. We offset 3.9 million kWh using renewable energy credits and plan to generate .5 million kWh annually by harnessing biopower from our wastewater treatment process.
Our Washington brewery was certified as the first Salmon-Safe brewery on the Puget Sound and recognized as a Best Workplace for Waste Prevention and Recycling in Washington State. The brewery diverted 99.2% of waste, which amounted to over 2,700 tons of plastic, cardboard, glass, compost, and spent grain.
CBA's 2016 Annual Sustainability Report can be found on our website here.
Local Earth Day Initiatives
CBA celebrated Earth Day 2017 with events, beers, and service projects across our brands' home states.
Kona Brewing employees in Hawaii took part in a beach cleanup day on historic Ke'ei Beach, removing trash and debris that endangers the marine habitat. Both Kona brewpubs featured Big Wave Golden Ale as the "Hipa Hipa (Hawaiian for "Cheers") beer special, with proceeds from sales going to non-profit partners in their efforts to preserve Hawaii's natural resources.
Employees at Widmer Brothers Brewing in Portland partnered with City of Portland Green Streets and the local Surfrider Foundation Portland Chapter to clean up the streets around the brewery's neighborhood and ensure they continue to filter pollutants in storm water runoff before it reaches the Willamette River and salmon habitat. In celebration of Earth Day, Widmer Brothers also brewed Tierra Biera, a small-batch lager made with Salmon Safe hops and malts, with a portion of proceeds benefiting Surfrider Portland.
In Washington, Redhook employees partnered with Salmon-Safe, Stewardship Partners, and Mid Sound Fisheries Enhancement Group to restore habitat.
About Craft Brew Alliance
Craft Brew Alliance (CBA) is an independent craft brewing company that brews, brands, and brings to market world-class American craft beers.
Our distinctive portfolio combines the power of Kona Brewing Company, a dynamic, fast-growing national craft beer brand, with an expanding stable of strong regional breweries and innovative lifestyle brands, including Appalachian Mountain Brewery, Cisco Brewers, Omission Brewing Co., Redhook Brewery, Square Mile Cider Co. and Widmer Brothers Brewing. CBA nurtures the growth and development of its brands in today's increasingly competitive beer market through our state-of-the-art brewing and distribution capability, integrated sales and marketing infrastructure, and strong focus on partnerships, local community and sustainability.
Formed in 2008, CBA is headquartered in Portland, Oregon and operates breweries and brewpubs across the U.S. CBA beers are available in all 50 U.S. states and 30 different countries around the world. For more information about CBA and our brands, please visit www.craftbrew.com.