After about 20 months of planning and building, Craft Brew Alliance (CBA) will finally open its Redhook brewpub in downtown Seattle in August.
Located in the Pike Motorworks Building in Seattle's Capitol Hill neighborhood, the 10,000 sq. ft. Redhook "Brewlab" will feature a 10-barrel brewing system, 16 rotating draft beers and seating for 260 people, according to Derek Hahm, CBA's vice president of sales and brewpubs.
CBA had originally planned to open the location earlier this year, but hit a number of delays, including a longer than expected permitting and zoning approval process, a change in building contractors and a small internal reorganization.
Despite those snags, the company didn't exceed its $7 million budget for the project, Hahm said.
"The desire to reconnect Redhook with Seattle has grown stronger over time, and making sure we did that it the right way was important to us," Craft Brew Alliance CEO Andy Thomas told Brewbound.
The brewery itself will be capable of churning out upwards of 4,000 barrels of beer annually, Hahm said, and the restaurant menu will feature an array of locally sourced food items.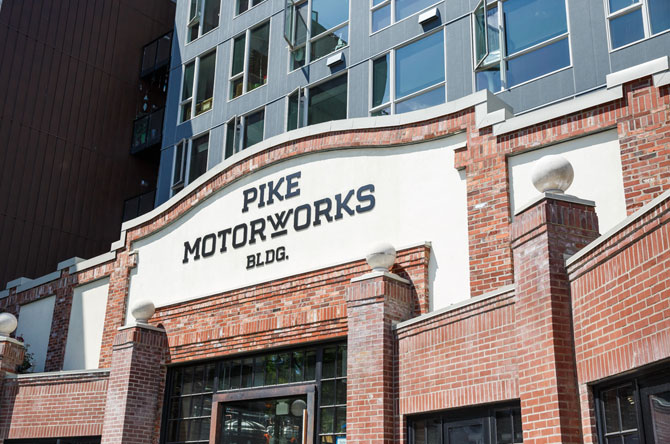 The BrewLab will officially open to the public on August 17, and beers brewed in collaboration with 14 different Washington-based companies – including Silver City Brewing, Elysian Brewing and Georgetown Brewing, among others — will be on tap.
"We are bullish on being in Seattle, and we want the community to understand that we are a local craft brewer," Thomas said. "We are serious about being from Washington with the Redhook brand, and hopefully these collaborations demonstrate that."
In a press release, CBA said it expects the Redhook BrewLab to produce as many as 100 different small-batch beers annually. Some of those offerings could eventually be scaled up for wider commercial distribution, the company added.
CBA – which also owns and produces the Kona, Widmer, Omission and Square Mile Cider labels, and has partnerships with Appalachian Mountain Brewery, Wynwood Brewing and Cisco Brewers — owns and operates five brewpubs in four states: Hawaii, Oregon, Washington and New Hampshire.
Those locations, staffed by 395 employees, served a combined 1.5 million customers and generated nearly $29 million in revenue in 2016, the company stated in its annual report.
The company declined to disclose visitor and revenue estimates for its new Seattle location, however.
The opening of the Redhook Brewlab comes as CBA has ceased production at its nearby Woodinville brewing facility. Although a brewpub at that location remains open, brewing operations officially ended on July 1, according to Thomas.
CBA has already begun shopping the 128,000 sq. ft. facility, which is capable of making about 220,000 barrels annually, and the list of interested buyers already includes real estate developers, wineries, alcoholic beverage companies and other breweries, Thomas added.
"We are trying to find the right buyer, and it is still early days," he said.
A press release with additional information about the Redhook Brewlab is included below.
SEATTLE – Redhook Brewery is opening the doors of its new brewery and pub, called Redhook Brewlab, in the Pike Motorworks Building at 714 E. Pike Street in Capitol Hill on August 17, 2017.
A Grand Opening Party with Redhook's radio partner KEXP will take place on August 17 from 3:00 to 10:00 p.m., with live music and a one-of-a-kind taplist featuring 16 collaboration beers brewed with some of Redhook's friends in the industry.
The Beer
Redhook Brewlab will feature 16 taps of rotating small-batch beers, brewed on site by Redhook Head Brewer Nick Crandall, an eight-year brewing veteran who has spent his time at Redhook focused on innovation and new beer development, including two pub-favorite IPAs in Redhook's line-up, the reformulated Big Ballard Imperial IPA and the hazy Bicoastal IPA.
Crandall will bring his recipe ideas to life at Redhook Brewlab through a state-of-the-art eight-barrel brewhouse. The brewhouse is a High Efficiency Brewing System (HEBS), which is unique in that it uses a mash filter instead of a lauter tun, enabling significant water and grain conservation, quicker brewing times, and easier batch-to-batch turnover. The flexibility and efficiency of the brewhouse will allow Crandall to experiment with a wide variety of beer styles and recipes, and brew more than 100 different small-batch beers every year.
Redhook Brewlab is a beer-focused working space. The brewery will be a test ground to experiment and create new small-batch beers primarily for the pub, and to develop recipes that will eventually come to life on a wider scale in Washington and beyond. Examples include Crandall's new Bicoastal IPA, and a few others planned for 2018: My Oh My Caramel Macchiato Milk Stout, Mothers of the Sun Raspberry Saison, Peaches for Me IPA brewed with peach and mango, and Tangelic Halo Tangerine IPA.
"Redhook was built on experimentation and taking risks back in the early 80s," said Crandall. "Redhook Brewlab will allow us to experiment and test brewing boundaries, as well as get feedback directly from our guests. We'll see what works and what might not. Ultimately, the next generation of Redhook's core and seasonal beers will be born at Brewlab."
With the launch of Brewlab, Redhook is also introducing its new Washington Native series, a rotating line-up of house IPAs that will feature ingredients exclusively sourced from the State of Washington. The Washington Native series will be a permanent fixture at Redhook Brewlab, and Crandall plans to brew the first release in the series with ingredients from two of his favorite sources, hops from Roy Farms in Moxee, Wash., and malts from Skagit Valley Malting in Burlington, Wash.
The Space
Redhook Brewlab's concept is an intersection of Seattle history and culture, a place where the city's eclectic influences mix – art, science, brewing, food, and music.
Housed within the Pike Motorworks Building, Brewlab's space is an open modern brewery and pub concept with an abundance of natural light. Large skylight windows above the front entrance on Pike street saturate the main bar and seating area with light, and floor-to-ceiling windows between the pub and brewery space give patrons a close-up view of the latest small-batch beers being brewed.
Redhook Brewlab space was designed by Graham Baba Architects and Arup Engineering, and brought to life by R|Miller Inc. Construction. The space and menu concept were created with input from famed Seattle restaurateurs James Weimann and Deming Maclise, who intentionally worked to emphasize the industrial features of the Pike Motorworks space while incorporating historic elements such as a 1930s bar salvaged from a Greyhound Bus Station in Soap Lake, Wash., and vintage lighting fixtures.
A focal point inside the brewpub is a custom mural by Grammy-nominated Seattle illustrator and Sub Pop Records Art Director Sasha Barr. The prominent mural on the wall near the front bar is a colorful collage celebrating the city, people, beer, architecture, and the neighborhood.
Large patios in the front and back of the space increase the seating capacity from 171 to 258, making Redhook Brewlab's total outdoor patio space the largest in the Capitol Hill neighborhood. The back patio features two firepits for a cozy beer drinking experience, and both patios will be open as weather allows.
In addition to developing Redhook's latest small-batch beers, Crandall will take the lead on the music front, playing music from his extensive collection of vinyl records for guests to enjoy while he's brewing beer. There are also plans to ramp up a local live music program, with an ongoing series of shows held at Redhook Brewlab.
The Food
Redhook Brewlab will offer a specially curated menu featuring ingredients from local Seattle purveyors. While the heart of the brewery is the eight-barrel brewing system, the heart of the kitchen is a stone-hearth oven from WoodStone in Bellingham, Wash.
From Executive Chef Adam Stevens: "I'd describe the menu concept as unabashedly good bar food, the kind of food we like to eat while drinking great beer. Our stone-hearth oven, the seasons, and local ingredients will dictate the menu, which will rotate throughout the year. In this way, the food aligns with our beers — we won't limit ourselves, we'll be experimental, and we'll always be having fun."
For more information, please visit http://redhook.com/breweries-pubs/capitol-hill, or follow us on Instagram, Facebook, and Twitter. More information on the Grand Opening, which takes place on August 17 from 3:00 to 10:00 p.m., can be found here: http://redhook.com/events/4/2088/redhook-brewlab-grand-opening.
About Redhook Brewery
Redhook was born out of the entrepreneurial spirit of early 1980s in the heart of Seattle. While the term didn't exist at the time, Redhook became one of America's first craft breweries with its focus on creating a better beer. From a modest start in a former transmission shop in the Seattle neighborhood of Ballard, to a Fremont trolley barn that housed The Trolleyman brewpub, to its current home of brewing experimentation, Redhook Brewlab, located in the Pike Motorworks Building in the heart of Capitol Hill, Redhook has become one of America's most recognized craft breweries.
Redhook's beer lineup includes ESB, Long Hammer IPA, Bicoastal IPA, Big Ballard Imperial IPA, Extra Special Lager (ESL), American Pale Ale, and a variety of seasonal beers, including Blackhook, Summerhook, and Winterhook. Redhook beers are available on draught and in bottles and cans around the country.
Redhook Brewery, Est. Seattle, WA 1981