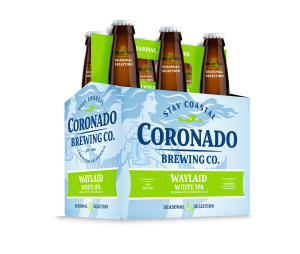 San Diego, CA — Spring is in the air, and Coronado Brewing Company is celebrating with the release of its latest seasonal beer, Waylaid White IPA. The company's 2017 seasonal lineup is a rotation of different IPA variations, including a hazy New England-style IPA, Belgian-style IPA, Double IPA, and Winter IPA; "Our fans know and love us for our IPA's," says Ryan Brooks, Brewmaster, Coronado Brewing Company. "Since we don't really have seasons in San Diego, we thought it would be fun to do different takes on the style throughout the year."
Waylaid White IPA comes in at a moderate 6.5% ABV and features complex tropical, pineapple and citrus notes, complemented by a bold Belgian spiciness that lingers into a dry finish. "We started with a good base, using a blend of Hallertau Blanc and Citra hops for a ton of bright tropical notes," says Brooks. "The strain of Belgian yeast we use gives the beer a dry finish and a nice peppery spiciness that keeps this beer super refreshing and interesting." Waylaid White IPA debuted April 1, and will be available throughout the company's distribution network, through June. For more information about Waylaid White IPA, please visit coronadobrewing.com. Stay Coastal. Cheers.
Tagline:Held up by hops. Beer Copy:Leave your schedule open, this Belgian style IPA is about to waylay your day. Bright citrus and pineapple notes from Citra and Hallertau Blanc hops team up with Belgian yeast, leaving a dry, lingering peppery finish. This is one holdup you won't mind. Specs: ABV 6.5%IBU 55Packaging 12oz bottle six-packs, 22oz bottle, draftAvailability April-JuneSales Sheet http://ow.ly/Vd1330azmuuPackaging http://ow.ly/w0io30azmCv
About Coronado Brewing Company
In 1996, when craft beer was still a foreign term and San Diego County was home to only a handful of breweries, the Chapman brothers, Ron and Rick, opened a brewpub in their hometown of Coronado. Today Coronado Brewing stays true to its San Diego roots, brewing a diverse portfolio specializing in abundantly hoppy West Coast-style ales, available in 19 US states and 12 countries. In addition to the long-established pub in Coronado, the company operates a tasting room inside its San Diego production facility, and a tasting room and restaurant in Imperial Beach, California. Coronado Brewing Company is the proud recipient of one of the brewing industry's most prestigious awards-World Beer Cup Champion Brewery and Brewmaster for a Mid-Size Brewing Company, 2014.