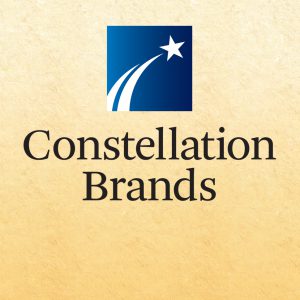 Constellation Brands' run of double-digit revenue growth continued in the third quarter of fiscal 2017, with the company's CEO, Rob Sands, crediting 16 percent growth across its beer brands as contributing to its overall 10 percent growth for the quarter.
Net beer sales were $964.6 million for the quarter for Constellation, which owns multiple beer, wine and spirits brands. Total net sales were $1.8 billion for the quarter, the company announced today on its quarterly earnings call.
Constellation, which boasts a beer portfolio that includes California-based craft brewery Ballast Point and Mexican import labels Corona and Modelo, attributed a 12 percent increase in organic net beer sales to volume growth for its Mexican beer offerings, favorable pricing of import labels, and $31.8 million in net sales from Ballast Point, which the company acquired for $1 billion in November 2015.
Constellation's beer shipments volume increased by 12.3 percent, to 57.7 million case equivalents, while depletions grew 10.7 percent.
During the call, Sands also touted the depletion growth of Modelo Especial (about 20 percent), Pacifico (about 20 percent) and Ballast Point, which he said showed "solid double-digit depletion growth."
Despite its percentage growth, Sands said Ballast Point is a "small contributor" to Constellation's results and is "hardly in distribution outside of California."
"It's not a meaningful contributor to any of the numbers that we're talking about," he said, "but it will be one day. It's a fast grower."
"There's a lot of runway in front of us with Ballast Point," added Constellation's executive vice president and CFO David Klein.
For the 2017 fiscal year, Constellation is projecting 16 to 17 percent net beer sales growth, and operating growth in the high teens, Klein said.
Analysts questioned a slowdown in growth, however, as the net sales increase of 10 percent during the quarter did not keep up with the 15 and 17 percent gains in the first and second quarters of the year, respectively.
Cowen and Company analyst Vivien Azer asked Sands about investor anxiety regarding what she described as a "soft" December for Constellation, citing data from market research firm IRI Worldwide.
"I don't think the quarter was soft at all," Sands said, noting that IRI trends show growth through the most recent reporting period, with Constellation up 13 percent for that month. "We are seeing acceleration at retail on consumer takeaway.
"We are the leader in growth in beer in every possible respect," he continued.
Constellation stock (STZ) closed the trading day at $146.75 per share, down 7.11 percent ($11.24).
Noting the stock's downward tumble, Sands said "we think our shares are undervalued. We are gung-ho on stock repurchases. No one needs to convince us of that strategy."
Through December 31, Constellation had repurchased 5.4 million shares of common stock for $823 million. As of the end of 2016, Constellation said it had completed a $1 billion share repurchase authorization, and noted that it had $847 million left under a new share repurchase authorization.
Some Constellation watchers have registered concerns with the company's plans to introduce Corona Premier, which the company hopes will challenge Anheuser-Busch's Michelob Ultra offering for market share in the high-end, low-calorie segment. Sands attempted to calm fears, calling the plans to roll out Corona Premier to three or four test markets"real straightforward, low-risk stuff."
"We continue to believe it has a high probability of success," Sands said. "We're not worried about cannibalization; we're only worried about the product fundamentally not being successful."
Meanwhile, Constellation's dominance in the Mexican import market has led to investor fears that a Republican-controlled Congress and a Donald Trump-led White House could hurt business.
Sands said Constellation has modeled several scenarios in preparation should the GOP push forward with border adjustability — a proposal to impose a 20 percent tax on all imports while providing exemptions for export-related income.
"Border adjustability hasn't even been written yet," Klein noted. "It's hard to get into specifics."
Sands and Klein added that they anticipate Constellation being able to achieve earnings per share growth rate of greater than 10 percent over the next three years despite any potential moves from the Trump administration.
"Under every scenario, we remain confident in our ability to achieve our strategic goals," Sands said.
Constellation has already met with Chuck Schumer, the senate minority leader, and House Speaker Paul Ryan in preparation for the new leadership and has learned that any work on border adjustment is likely a year away, Sands said.
"Literally what we've been told by the leaders is that Obamacare is the first thing on their plate," Sands said. "And that's going to take a while."
Meanwhile, Sands said other tax-reform benefits may offset any potential negatives.
"It could be a net positive when it's all said and done," Sands said.
In December, Constellation further cemented its business interest south of the border by completing the $583 million purchase of the Obregon, Mexico brewery operation from Anheuser-Busch InBev subsidiary Grupo Modelo. Sands said the brewery is fully operational, and its 400 employees have "hit the ground running now that the transaction has closed."
The brewery will provide immediate access to capacity for supporting the company's fast-growing high-end Mexican beer portfolio," Sands said.
The Obregon acquisition is in addition to a $1.5 billion Mexicali brewery project. Sands said acquiring Obregon has allowed company to reduce capacity at Mexicali to 5 million hectoliters, down from the 10 million hectoliters of initial capacity. Sands said he anticipates the first module of the brewery going online late in calendar year 2019.