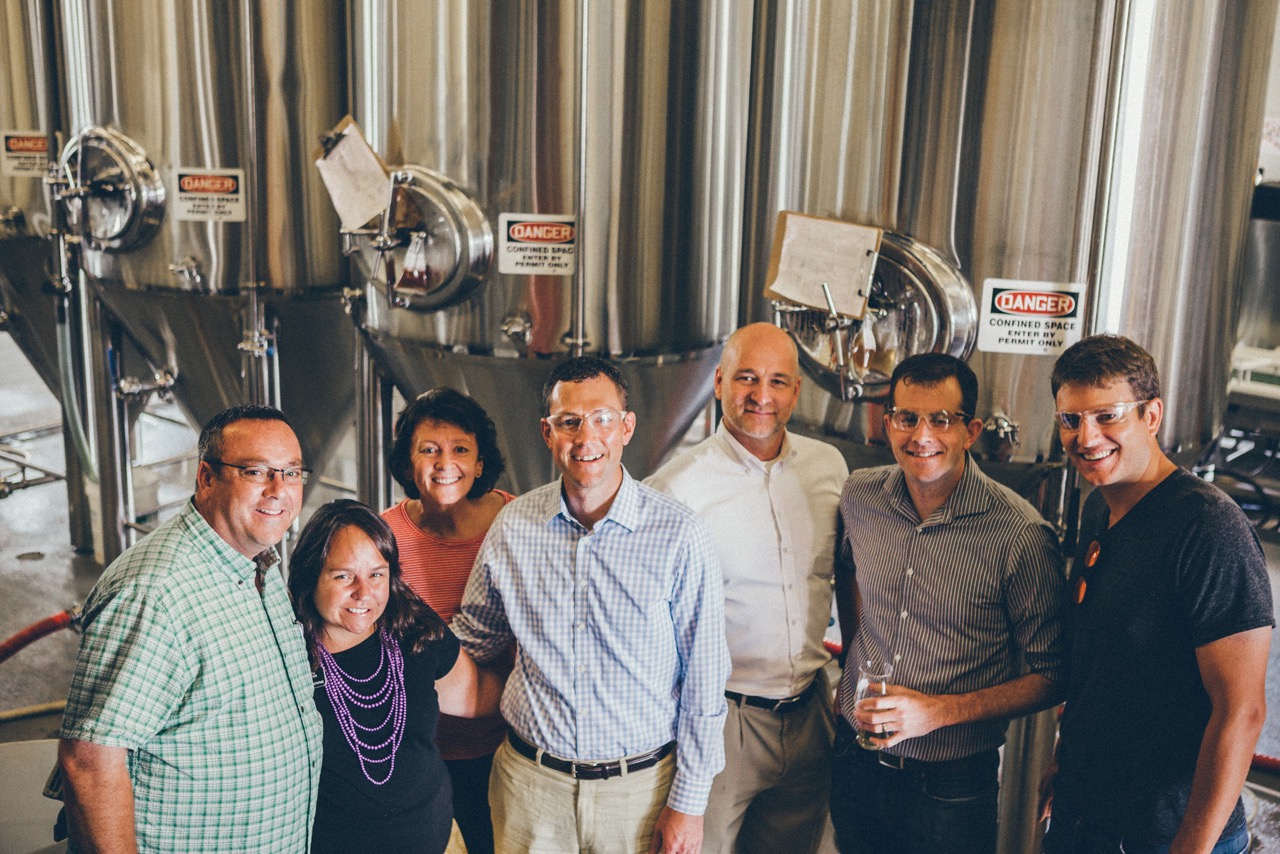 DENVER — Breweries from all around the world will be attending the Great American Beer Festival to compete for medals in a variety of beer style categories. Another competition that will take place at GABF is Hop the Vote, a friendly but spirited brewing competition that highlights the relationship between Colorado craft brewers and state lawmakers.
On August 24th, the Colorado House of Representatives team got together to brew at 4 Noses Brewing. Team members include Representative Alec Garnett (D-Denver), Representative Hugh McKean (R-Loveland), Kim Ransom (R-Littleton), Jeff Bridges (D-Greenwood Village), and Kevin Van Winkle (R-Highlands Ranch).
"As the beer business evolves, it is clear how crucial it is for us to work well with lawmakers locally and nationally," said Tommy Bibliowicz, president and brewmaster at 4 Noses Brewing Company. "Participating in an event like Hop the Vote really ties both aspects of this together and embraces the mutual passion and curiosity for great beer that many of us share."
The House Beer: 4 Votes IPA
At 7.1 percent alcohol by volume (ABV), 4 Votes is a classic take on a bi-partisan IPA. The foundation of 4 Votes IPA is Colorado grown two-row and Munich malt from Proximity Malting, which lends a creamy mouthfeel and a mild level of biscuit-like sweetness. A heavy late addition of Amarillo and Simcoe hops creates a complex and lightly bitter flavor profile. The aroma is bright citrus and pineapple from copious amounts of dry-hopping.
On August 25th, the Colorado State Senate team brewed at Renegade Brewing. Team members include Senator Tim Neville (R-Littleton), Senator Steve Fenberg (D-Boulder), and Chris Holbert (R-Parker).
"It's an honor to represent members of the Colorado Brewers Guild by engaging our legislators in our industry in a fun and exciting way," said Renegade Brewing owner Brian O'Connell. "This program shows the importance of craft beer in our state and the commitment of the CBG to work with our legislators to keep our industry strong. We are a vital part of the state's economy and business leaders and legislators alike can work together to keep it strong."
The Senate Beer: Upper Chamber Haze
At 5.5 percent alcohol by volume (ABV), Upper Chamber Haze is sure to appeal to constituents across the board. This easy drinking brew unites IPA styles from both coasts—big, juicy aromas, a touch of haze, and a lasting grapefruit finish will leave the chambers toasting across the aisle.
The competing brews will continue to ferment as GABF nears. During the first three sessions of GABF, team members will be campaigning and pouring the fruits of their labor at the Colorado Brewers Guild booth in the Guild Pavilion. Attendees will have the opportunity to sample the beers and cast their votes at each session. The winner will be announced on October 7th at 3:45 p.m.
About the Colorado Brewers Guild
The Colorado Brewers Guild is a non-profit trade association representing Colorado craft breweries and brewpubs. CBG is dedicated to the improvement of business conditions and is an advocate for its members. CBG sponsors a variety of beer events each year designed to increase the awareness and appreciation of Colorado brewed beer. Board members include: Brad Lincoln (Funkwerks Brewing Company), Brian O'Connell (Renegade Brewing Company), Chris Wright (Pikes Peak Brewing Company), Eric Wallace (Left Hand Brewing Company), Kim Jordan (New Belgium Brewing Company), Kristen Muraro (Ska Brewing Company), Matt Cutter (Upslope Brewing Company), Mike Bristol (Bristol Brewing Company). Tim Myers (Strange Brewing Company), Tony Simmons (Pagosa Springs Brewing and Grill), and Wynne Odell (Odell Brewing Company). For more information about the Guild, visit www.coloradobeer.org.