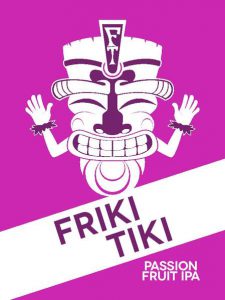 MORGANTON, N.C. — Catawba Brewing taps a Small Batch Black Currant Sour (6.5 percent ABV) on Thursday, November 30. Brewed with malted wheat, the beer was soured in the kettle with lactobacillus. An addition of ripe black currants in secondary fermentation lends bright berry-like fruit notes. This is Passport Beer #48 in Catawba's 2017 Small Batch rewards program. Brewed in their Asheville South Slope brewhouse, the beer is available in Catawba's tasting rooms, and in limited distribution.
On Friday, December 1, Catawba releases two new specialty beers. Friki Tiki Passion Fruit IPA (6.6 percent ABV) is the sixth in a monthly series of fruited IPAs. Brewed in 30-barrel batches at their Morganton production brewery, these specialty IPAs will see a limited draft-only roll-out throughout Catawba's distribution area.
Brown Bear Almond Joy (5.2 percent ABV) is the second of three specialty variations on Catawba's flagship English Brown Ale, to be released monthly through January. It was conditioned on almonds, cocoa nibs, and toasted coconut, transforming Brown Bear into a rich holiday beer with unmistakable flavors of coconut candy bar and a hint of Amaretto. Brewed in Asheville, the beer will be available on Friday, December 1, at all four Catawba tasting rooms.
About Catawba Brewing Company:
Founded in 1999 by the Pyatt family, natives of Western North Carolina, Catawba Brewing operates a main production facility in downtown Morganton, NC at 212 S. Green St; a boutique brewery/tasting room in downtown Asheville, NC at 32 Banks Ave; a tasting room in Asheville's Biltmore Village at 63 Brook St.; and a new Catawba brewery/tasting room in Charlotte's Plaza Midwood neighborhood at 933 Louise Ave. Catawba beers can be found in NC, SC, TN, AL, GA, and now in the Dominic Republic. Find us at www.catawbabrewing.com.