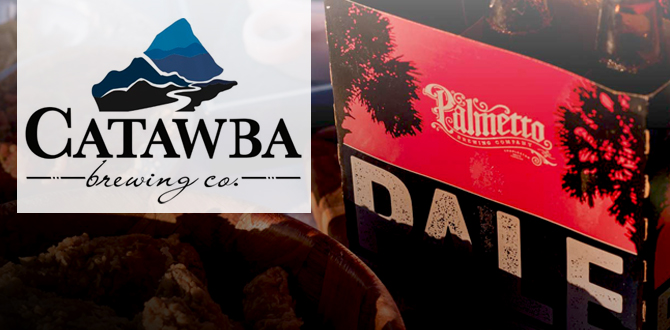 North Carolina's Catawba Brewing Co. has reached an agreement to acquire Charleston, South Carolina-based Palmetto Brewing Co.
Catawba co-founder Billy Pyatt told Brewbound that his company will acquire "100 percent" of Palmetto's assets and hopes to close on the transaction by the end of the year.
Pyatt, who co-founded the Morganton craft brewery in 1999 with his wife, Jetta, and brother, Scott, declined to share specific financial terms of the transaction. However, he said discussions about a potential deal with Palmetto owner Larry Lipov began earlier this year.
Although Lipov will be stepping away from Palmetto's day-to-day operations, he will maintain one important connection to Palmetto.
"He's going to be my landlord," Pyatt said. "I can't tell you how excited I am because he'll still be involved in Palmetto. He'll be involved in Charleston. It's just a wonderful arrangement for us."
Among the factors that led the two companies to joining forces were "increasing market consolidation, product proliferation and cost pressure," according to a press release from Catawba.
"If you start looking at all of those things, one logical solution is for us to try to get bigger, but get bigger the right way," Pyatt told Brewbound. "That's kind of what we found between Palmetto and Catawba."
Catawba and Palmetto appear to be on similar growth paths. Palmetto is on pace to sell about 16,000 barrels of beer by the end 2017 while Catawba, which operates four North Carolina outposts, including its main production facility and tasting room in Morganton along and breweries and tasting rooms in Asheville and Charlotte, will produce about 17,500 barrels.
"Palmetto has been on an amazing growth trajectory for the last five years," Pyatt said. "Catawba, the same. We're 17 times the size we were five years ago."
Once the deal is finalized, Pyatt said the company will embark on a $1 million capital improvement project — paid for with debt financing and cash flow — to increase capacity at both breweries. Palmetto will eventually be able to scale up to 20,000 barrels while Catawba will be able to produce 30,000 barrels at its main production facility in Morganton. Pyatt added that equipment upgrades will be made at the Charleston facility in order to "soup up" its brewhouse.
"We're looking forward to making it the brewery that we need it to be," he said.
Catawba currently ships beer to five states — North Carolina, South Carolina, Georgia, Tennessee and Alabama — while Palmetto's offerings are available in the Carolinas and coastal Georgia. Pyatt said Catawba and Palmetto share many of the same distributors in those overlapping markets. However, where the two breweries are misaligned, Pyatt said "high-level discussions" will begin with distributors.
"At this point, I don't want to commit to anything," he said of potentially seeking alignment. "We're going to be openminded."
A press release with more details is included below.
Catawba Brewing Co. to purchase Palmetto Brewing Company of Charleston
Morganton, NC and Charleston, SC – Catawba Brewing Co. of Morganton, NC (Catawba) and Palmetto Brewing Company of Charleston SC (Palmetto) are excited to announce the two companies are being joined into a single entity. Catawba intends to finalize the purchase of Palmetto by the end of 2017 with the Pyatt family retaining 100% ownership.
"The closer we became to Palmetto's owners, the Lipov family, the more we realized our two companies were very similar," said Pyatt. "Palmetto will produce around 16,000 barrels in 2017, and Catawba will produce around 17,500. Their culture is one of giving back to the employees and the communities served, and their attention to customers mirrors ours." Yet there are key differences which should become synergies. "Catawba has one of the most effective manufacturing operations in the southeast, while Palmetto has proven highly successful in customer-facing operations."
"The opportunity for combined growth and shared resources will put both brands in a more competitive position to compete in the rapidly changing craft market, "said Larry Lipov, Palmetto's owner. "And it is very satisfying to know today's Palmetto and Catawba team members will work together to grow the brands."
"Catawba is so thankful for the intense retailer, wholesaler, and consumer support over the past five years – we are 17 times bigger! Palmetto has been on a similar path, growing to about 8 times larger than they were in 2012. But increasing market consolidation, product proliferation, and cost pressure are making it more difficult for either company to remain competitive as a small, independent brewer. The scale and scope of this new, combined entity will help us stay on our trajectory," said Pyatt.
Catawba has a long history of diversified job creation by expanding manufacturing and service positions in their chosen markets.
Pyatt elaborated, "Upon finalization, we will immediately implement a $1 million capital investment plan for Morganton and Charleston. That includes facility upgrades, equipment purchases, and of course, personnel to support our proven hybrid retail/wholesale business model."
About Catawba Brewing Co.
Founded by the western North Carolina's Pyatt family in 1999, Catawba Brewing Co. operates their main production facility in downtown Morganton, NC; a small batch brewery and tasting room in downtown Asheville, NC; a tasting room in Asheville's Biltmore Village; and a brewing/tasting room/event complex in Charlotte NC. Catawba beers are currently distributed in NC, SC, TN, AL, GA, and internationally.
About Palmetto Brewing Company
Palmetto Brewing of Charleston, founded in 1993, is SC's first craft brewery. Owned by the Lipov family and deeply rooted into the Charleston community, they have experienced growth from 2000 barrels in 2012 to a forecasted 16,000 barrels in 2017. Palmetto beers are currently distributed in SC, NC, and parts of Georgia, and they operate a brewery/tasting room in Charleston, SC.