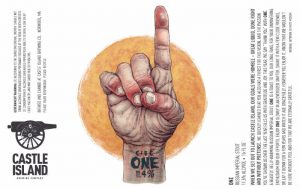 Norwood, MA – A year after opening for business, Castle Island Brewing Company is releasing ONE, the brewery's first imperial stout, to celebrate their one-year anniversary.
A traditional Russian Imperial Stout, ONE clocks in at 11.5% alcohol by volume, and is the strongest beer the brewery has made to-date, according to Head Brewer, Matt DeLuca.
"We wanted to do something big to celebrate our first year," said DeLuca, "and ONE is just that. We pushed our equipment to the limits with this beer. Honestly, we weren't even sure if we were going to be able to pull it off until we actually brewed it."
ONE will only be available at Castle Island's Norwood brewery beginning Tuesday, December 13, and will be sold in single 16 ounce cans. A limited number of kegs will also be distributed to the market at a later date.
This also marks the beginning of the Company's barrel-aging program. The growing popularity of barrel-aged beer has made it an ongoing request from Castle Island's customers, and the brewery has selected ONE to kick off the new effort.
"We've always wanted to dabble in barrel aging, but we couldn't find time or the right beer to start it up over the last year," added Founder, Adam Romanow. "ONE is the perfect candidate for a brief rest in bourbon barrels, so we're excited to finally launch our barrel program."
The Company plans to expand its use of barrel aging in the future, but only plans to produce "clean" beers, or beers made only with traditional brewers' yeast. The alternative, sour or "wild" beer, is typically made with mixed yeast and bacteria cultures and can create a challenge for brewers trying to avoid cross contamination. Because of that, Castle Island does not have any immediate plans for barrel-aged sour beers.
Castle Island opened its doors to the public on December 11 last year, and experienced swift and significant growth in the Massachusetts market. The Company's beers are found at bars, liquor stores, and restaurants throughout the Eastern and Central parts of the State, and the brewery has shipped beer to over 1,000 accounts since January.
Located off Route 1, at 31 Astor Ave. in Norwood, Mass., Castle Island is currently open to the public on Tuesdays and Wednesday from 12:00 P.M. to 6:00 P.M., and Thursdays through Saturdays from 12:00 P.M. to 8:00 P.M.
For additional information about the brewery and for an updated list of retail locations where Castle Island beers can be found, please visit the company's website (castleislandbeer.com) and Facebook page (facebook.com/castleislandbeer). Email contact@castleislandbeer.com or call 781.951.2029 with any other questions.
About Castle Island Brewing
Castle Island is dedicated to crafting the highest quality beer with purpose and without pretense. With a focus on American ales, we make offerings that are both unique and approachable. Our singular goal is to brew distinctive beers that honor proven traditions and celebrate fresh ideas.