If you asked Dogfish Head founder Sam Calagione, he'd tell you the reports of a craft beer slowdown have been greatly exaggerated.
Sales of Dogfish Head products are up 20 percent midway through 2017, Calagione told Brewbound during a recent interview.
Helping to drive that growth are the addition of two new year-round offerings — Flesh & Blood IPA and SeaQuench session sour ale — sales for which have already doubled the company's initial projected volumes.
In a press release, Calagione said those two beers were the "fastest-growing year-round brands in the 22 year history of Dogfish Head," comparing them to similar trends the company witnessed when it launched flagships 60 Minute IPA and 90 Minute IPA.
"Both of these brands, along with the launch of 60 Minute IPA 12-pack cans are in the top 15 of new can SKUs launched in 2017," Calagione said via the release. "In addition to the topline gains these brands are delivering for Dogfish and our distribution partners, we are achieving this growth as the #1 craft brewery revenue per CE [case equivalent] of the top 25 supplier according to IRI at $53.15."
Calagione chalked the early success of those brands up to the company's expertise in experimenting with unique ingredients and flavor combinations.
"Flesh & Blood is the culmination of over two decades of R&D with fruit juice IPAs and the fact that we have built these custom perforated colanders that we fill with flesh and peel and blood-orange juice instead of using concentrates or flavoring agents," he said. "I think you can really taste the difference."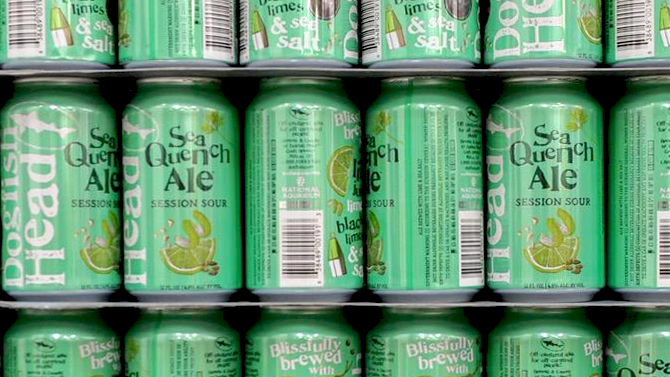 SeaQuench, launched in cans in March, checks in at 4.9 percent ABV and contains just 140 calories and 9 carbs. Canned six-packs are available across the company's entire distribution footprint, and re-orders led the company to increase its original production estimates, Calagione said in the release.
But the increased production comes at a cost — Calagione recently cut a check for $110,000 worth of fresh fruit slices.
Calagione's theory? Paying for high-quality ingredients and listing them on product labels gives consumers the confidence to spend more on Dogfish Head products, which in turn gives wholesalers the confidence get behind those brands.
"You know the old adage, you can't take a 50-foot stack of cheap beer to the bank?" he quipped. "But when your beer is $53 dollars on average per case at retail, you can take more dollars to the bank as a retailer or distributor.
"We've worked hard for that position, but our distributors have too," he added.
Another area of the Dogfish business helping to drive growth are cans, which were added to the company's portfolio last November. Calagione said he was "a little embarrassed" that it took so long to start canning, and admitted that company-wide growth would be just five or six percent without the addition of aluminum.
"I was always hesitant to do it because here we have these really high-end, culinary-inspired beers, and I was worried that the canning format lent itself to expectations of discounting and sort of commodification," he said. "But lots of wonderful breweries have proven before Dogfish that that doesn't have to be the case with cans."
In addition to selling 12 oz. cans in 6-packs and 12-packs, the company is also testing 19.2 oz. single-serve cans of SeaQuench Ale and 60 Minute IPA, which have a suggested retail price of $2.99, in markets such as Philadelphia, Indianapolis, Houston, Las Vegas and Dallas/Fort Worth. Areas of Delaware, New Jersey, Rhode Island, Ohio and Arizona are also receiving shipments of the larger format package, and Dogfish is considering a foray into 16 oz. cans as well.
Launching SeaQuench and Flesh & Blood and expanding into cans was part of a broader long-term growth strategy that began in 2016, and included an expanded sales force, new leadership, refreshed packaging and the addition of another 150,000 barrels of capacity.
"We knew this was the year that we'd be focusing on growth and engagement with our distributors. That's what we're really focusing on executing now," Calagione said. "Our choice was to spend a lot of money and resources on building out a world-class sales and marketing organization with more focus on fewer brands and going deeper with them with really great marketing programming."
Dogfish Head's sales force has grown from 25 people to more than 80 over the last 18 months, Calagione said. He credited senior vice president of sales Todd Bollig and vice president of human resources Cindy Dunson with leading the initiative to hire "really talented, seasoned veterans."
"It's obviously a massive investment for Dogfish Head," Calagione said."But I'm confident it was the right investment."
Dogfish has also aggressively expanded its distribution footprint during the first half of the year, launching in Oklahoma, Missouri, New Mexico, Alabama, Minnesota, West Virginia and Kansas. The company's footprint now includes 37 states and Washington, D.C.
"Our state flag budget is through the roof," said Calagione, who is pictured in each new market announcement with the corresponding state flag. "I could build a sizable quilt with some of my favorite states' logos right now."
But it's not just new distribution that is contributing to the company's impressive topline growth figures. Sales in existing core markets of Delaware, New Jersey, Pennsylvania, Virginia, Maryland and Washington, D.C., are also up 17 percent year-to-date.
Calagione said the company is in no hurry to become a nationally-distributed craft brand, but hinted that more new market openings could be on the way.
"We are in the mode of opening the right states at the right time, so there will be more to come in the next year for sure," he said.
Dogfish Head sold about 234,000 barrels of beer in 2016, according to industry trade group the Brewers Association, which ranked the Delaware company as the 14th largest craft brewery in the U.S. last year. The company is currently on pace to eclipse 280,000 barrels in 2017, which would put it at no. 12 on the BA Top 50 craft breweries list.