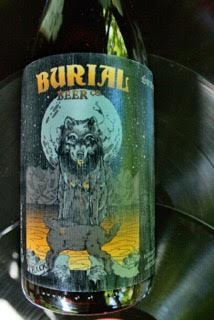 Asheville, NC — Burial Beer Co. announces the launch of the Album Series, a series of limited release bottles inspired by their love of music and the way tracks on an album relate to one another and culminate into one cohesive sound.
The first beer, Track 1, an Imperial Stout, is set to release this Sunday, July 3rd beginning at noon at the brewery's taproom on 40 Collier Ave. To usher in the new Album Series, the brewery will also release a final moon beer that day, Thirteenth Moon, a passion fruit India Pale Ale fermented on flowers.
The Moon Series, inspired by the cycles of the moon, were brewed on the brewery's original one-barrel system and released monthly throughout 2015. Similarly, the Album Series will be crafted on the one-barrel system and released throughout the year as a means for the growing brewery to stay connected to their ethos and desire to continue creating new styles while remaining anchored to the old.
Bottles of both beers are $16 per 750ml bottle with a two bottle per person limit. For more information visit www.facebook.com/burialbeer
ABOUT BURIAL BEER CO.
Founded in June 2013, Beer Co. crafts German lagers, Belgian-inspired ales, and bold American styles with a dedication to creativity, tradition, modernization, and preservation. Residing in and revitalizing the South Slope District of Asheville, NC, the brewery began its life as a one-barrel system that grew to a 10 barrel In just over a year. Fall 2016 will bring a new wave of expansion and revitalization as Burial Beer Co. expands again to a to a second location and 20 barrel production brewery, urban farm, locally purveyed restaurant and two-story tasting room in South Asheville.