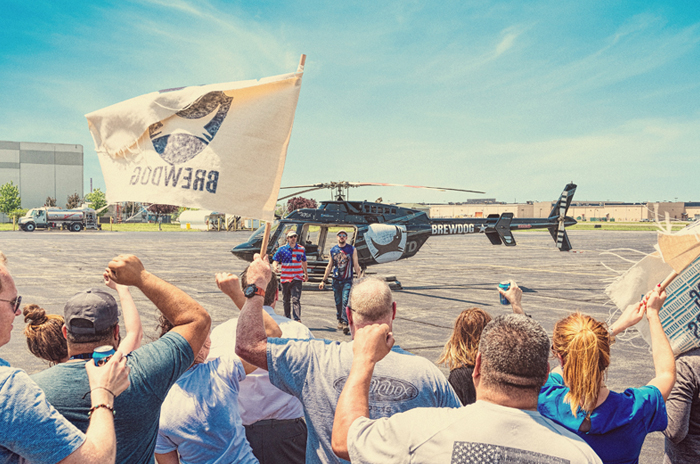 Less than a year after opening a $50 million U.S. production facility, Scottish craft beer makers BrewDog have embarked on a $10 million crowdfunding campaign to fund its U.S. expansion plans.
BrewDog announced the campaign last week in a video in which founders James Watt and Martin Dickie drop stuffed cats from a helicopter on Wall Street in order to "openly mock the caricature of the Wall Street fat cat banker."
Recall that Brewdog sold a 22 percent stake valued at $265 million to private equity firm TSG Consumer Partners, which has offices in New York City and San Francisco, in April 2017.
With 75 days remaining in the Equity for Punks USA campaign, BrewDog has secured more than $249,000 of its $10 million goal. The company is hoping to raise as much as $40 million by offering 800,000 shares of BrewDog USA common stock at $50 per share.
In press literature, BrewDog touted that the company is owned by more than 80,000 investors and has raised more than $103 million to-date. Last July, BrewDog also closed its first Equity for Punks USA round, raising more than $7 million from about 8,000 investors.
The European version of BrewDog's Equity for Punks campaign is in its fifth round and has raised more than $24.8 million as of press time with 126 days left in that campaign.
Speaking to Brewbound, BrewDog USA CEO Tanisha Robinson said the company's goal is to hit $10 million before the company's U.S. shareholder meeting, dubbed "Annual General Mayhem," on August 25.
Robinson said BrewDog, which last year opened a 100,000 sq. ft. production facility and taproom in Columbus, Ohio, plans to use the money to hire territory managers in the markets where the company now ships its beer as well as other upgrades to its facility.
Earlier this year, BrewDog expanded distribution to seven states — Indiana, Illinois, Kentucky Tennessee, New York, New Jersey and Pennsylvania. And it plans to begin shipping beer to Michigan and West Virginia within the next month, Robinson added.
Before the end of the year, the company also expects to expand distribution to Minnesota, Wisconsin, and Connecticut.
"We obviously have our eye on being a national brand within the next few years, and so, in my view, we really wanted to establish our regional footprint in those dozen or so states," Robinson said. "Obviously, we have to win in Ohio, but I think having a really strong regional base and then thinking about having a wider expansion in the U.S. is what we see as our foundation."
One of the drivers of the rapid expansion into these states has been support from grocery chains, Robinson said.
"We've got great partnership with Giant Eagle, Kroger, Whole Foods and Meijer and Wegmans, which has been huge drivers in us building momentum in these certain markets," she said.
BrewDog also has its sights set on adding more brewpubs, seeding locations in Cincinnati, Indianapolis, Pittsburgh, Louisville and Cleveland. The company currently operates a tasting room at its production facility as well as two brewpubs in the Short North and Franklinton neighborhoods of Columbus.
Robinson said BrewDog's strategy is to open pubs in neighborhoods "that have been left behind" and give them an economic development boost.
"We have an opportunity to really think about our brewpub business in a way that we go to neighborhoods that it matters that a business like ours is showing up," she said.
BrewDog has also promised to open a brewpub within 18 months in any city in which 500 people invest in Equity for Punks USA. So far, Gloucester County, Virginia, is "about halfway" to hitting that goal, Robinson said.
BrewDog is also earmarking funds from the raise to build a dedicated events space on its Columbus campus, install an automated keg line and develop its sour beer program, which is housed inside the "DogHouse" hotel. That venue is slated to open in August.
Robinson said the events space will allow the company to host weddings and corporate retreats as well as live music bookings.
BrewDog also plans to hire for an event sales position to drive activity in its pubs as well as future event space and hotel. The company will also add personnel to its marketing and finance teams, Robinson said. BrewDog recently already hired long-time New Belgium brewer and brewing supervisor Tamar Banner, who helps oversee brewing operations as a production manager.
"We're still a pretty lean and scrappy team," Robinson said.
BrewDog, which started production last summer at its Ohio facility and began shipping beer last August, sold about 4,000 barrels in 2017. This year, Robinson said, BrewDog is on track to sell about 24,000 barrels.
"Our target for this year of 24,000 barrels is our base, but we want to more than double that in 2019," she said.
Elvis Juice, BrewDog's grapefruit-infused IPA, accounts for about half of the company's volume while New England-style IPA "Hazy Jane" makes up about 20 percent of its business, Robinson said. Meanwhile, Punk IPA, the company's U.K, flagship, is about 18 percent of its U.S. volume.