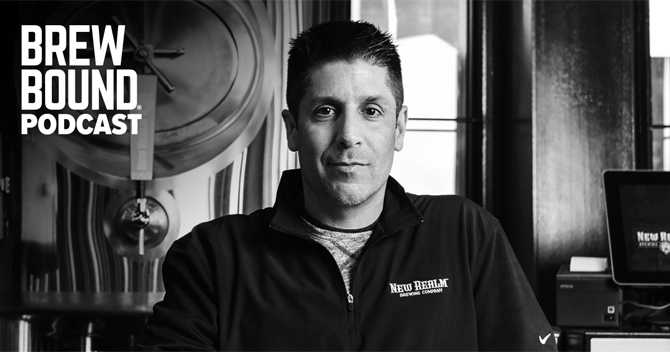 Before opening Atlanta's New Realm Brewing earlier this year, co-founder Carey Falcone spent nearly eight years meticulously crafting a business plan that would set his company up for long-term success.
In doing so, Falcone visited dozens of breweries around the world, taking notes about the elements of each company that he loved the most and wanted to replicate.
"We were really thorough about just about every aspect of this building, from the glasses that we would choose for our beer to the soap that we would choose to clean the glasses," he said. "We really laid out an incredibly detailed, strategic plan. We built a one-, a three-, a five- and a 10-year plan. Everything from the materials that we would use, to the people that we would bring in to be a part of this, to the focus on the quality and everything being very core values-based. We detailed all of it."
In the second episode of the Brewbound Podcast, Falcone joins Brewbound editor Chris Furnari in a discussion about his career in the brewing business and the launch of the Atlanta-based beer company.
Throughout the conversation, Falcone talks about his experience as a first-time entrepreneur, New Realm's core values, the process of getting the brewery off the ground, and how he convinced former Stone Brewing Company brewmaster, Mitch Steele, to move across the country to join a startup in the South.
Falcone also discusses the impact that recently enacted direct-sales laws in Georgia have had on New Realm's business, the decision to purchase a distressed brewing facility in Virginia ahead of the company's original expansion plans, and how he envisions the craft beer category evolving over the next decade.
Also included in episode two is a rundown of the latest industry news and the official introduction of Brewbound Podcast segments.
You can listen to episode two of the Brewbound Podcast above, as well as on iTunes, Google Play, Stitcher, Spotify, and Soundcloud, among other listening platforms.
New episodes of the Brewbound Podcast, which is co-hosted by Brewbound editors Chris Furnari and Justin Kendall, are published every Thursday.
Episode three, featuring Port Brewing, Lost Abbey and The Hop Concept partner Tomme Arthur, will be released on Thursday, September 27.
For questions, comments or suggestions, please email podcast@brewbound.com