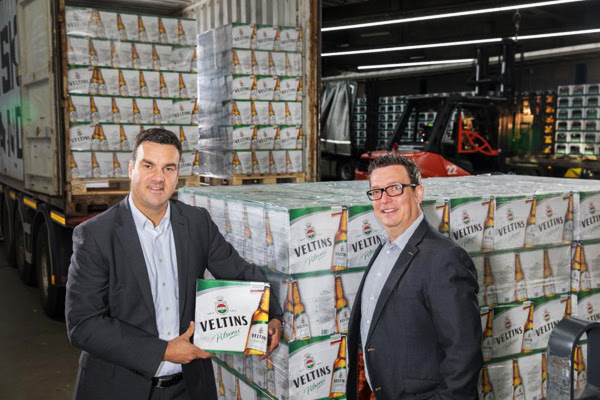 Meschede-Grevenstein, Germany – Twenty-five years ago, Brauerei C. & A. Veltins began exporting the first Veltins beer. Today, exports make up 7.3 percent of the company's total output. Its products are enjoyed by beer lovers in Germany, Span, Italy, the Netherlands, Great Britain and, increasingly, the United States.
In fact, the history and success of Veltins is uniquely connected to America. Clemens Veltins, who took over operations in 1852, had studied brewing in America before setting out to create a fresh-tasting, premium-quality beer – the same "fresh Veltins" that today continues to impress beer connoisseurs.
In recent years, Export Manager Udo Bruns and his team have been building the "Fresh Veltins" brand internationally, and they have found an overwhelmingly positive response in America. Both Veltins Pils and Grevensteiner Unfiltered Vienna Lager are available in kegs and cans across the country. Veltins Pils can also be found in 12 pack bottles.
"We are delighted to have such a high-quality and delicious German pilsner in our portfolio as Veltins Pils," says Lanny Hoff, SVP of Artisanal Imports. "For it to be accompanied with a beer as unique as Grevensteiner is simply terrific. We are proud to represent Veltins in the USA."
Today, Veltins produces one of the most popular German Pilsner-type beers – a true success story in a nation with more than 1,200 breweries. One of the elements that makes Veltins exceptional is the pure brewing water drawn from protected mountain sources in the area around Grevenstein. Veltins' traditional recipe, combined with a technologically sophisticated brewing process, bring history to life in modern products more Americans are discovering each year.
"We have the essential advantage that Veltins is known as an excellent brand of the highest German quality," said Dr. Volker Kuhl, Managing Director of Marketing/Sales at Brauerei C. & A. Veltins. "It was not important for us to gain more and more countries; we are much more interested in creating strong relationships in carefully selected markets."
Ninety percent of all Veltins exports are via keg, and the company's successful growth is matched by logistics expertise. Kegs, cans and bottles are shipped by land to European customers; Veltins products exported to America complete a sea voyage of several thousand miles. Up to 700 kegs can be stowed securely in each 40-foot shipping container, and voluminous air cushions between the pallets ensure that this valuable freight reaches its destination unharmed, even on rough seas. Out of the hundreds of containers that have been shipped by sea over the past 25 years, not a single one has been lost overboard.
Brauerei C. & A. Veltins beer can be found in the following states: AK, AL, AZ, CA, CO, FL, IA, ID, IL, KS, KY, MA, MD, ME, MI, MN, NC, NJ, NV, NY, OH, OK, OR, PA, RI, SC, TN, VA, VT, WA, WI and WV. Look for Veltins Pils and Grevensteiner Unfiltered Vienna Lager in local beer and liquor stores, both chain and independent, as well as specialty grocery outlets including Whole Foods and Total Wine.
About Brauerei C. & A. Veltins
Brauerei C. & A. Veltins is located in Meschede-Grevenstein, the capital of Germany's Hochsauerlandkreis district. With over 190 years of brewing expertise, Veltins features a lineup of popular beers such as Veltins Pilsener, Veltins Radler and Grevensteiner. Learn more at www.veltins.com.