Truly Spiked & Sparkling, a new hard seltzer label produced by craft beer maker Boston Beer Company, has hit liquor store shelves.
The company, best known for its Samuel Adams, Angry Orchard, Twisted Tea and Coney Island brands, is expected to make a formal product announcement next week. Rollouts in 15 additional states — New Hampshire, Maine, Connecticut, Rhode Island, Vermont, New York, Colorado, New Jersey, Illinois, Indiana, Iowa, Pennsylvania, Minnesota, Kansas and Maryland — are also planned or underway, according to the brand's Facebook page.
Described as a 5 percent ABV, 100-calorie spiked sparkling water with natural flavors, Truly's three SKUs include Colima lime, grapefruit & pomelo and pomegranate.
At least two Massachusetts-based wholesalers that already distribute Boston Beer Company products said they began delivering Truly offerings to retailers today. Brewbound was able to locate and purchase 6-packs of the new product for $8.99 in Waltham, Mass.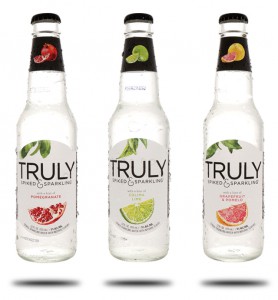 "They are really clean and easy to drink," said Scott Adams, the vice president of sales for Burke Distributing, which sells Boston Beer Company products throughout the greater Boston market.
So who's the target audience?
Joe Salois, the owner and president of Atlas Distributing in Auburn, Mass., which sells three different hard seltzer brands, including Truly, believes wine drinkers and female consumers will gravitate toward the "entirely new segment" that Boston Beer is helping to carve out.
"There is a real opportunity for these types of products with the female audience," he said. "It tastes great, it looks good and it is easy to drink."
Clear in color, Truly Spiked & Sparkling is gluten-free and contains just two grams of carbohydrates and one gram of sugar. A nutrition panel lists filtered water, beer made from sugar cane, natural flavors, sugar cane, citric acid and sodium citrate as the product's only ingredients.
Boston Beer's foray follows closely behind fellow New England craft beer maker Wachusett Brewing, which last month, via its newly established Craft Cocktail Company DBA, began shipping Nauti Seltzer throughout Massachusetts. That product also checks in at 5 percent ABV, and 110 calories, but is made with neutral malt base and is not gluten-free.
Both the Truly and Nauti brands are fast-followers, however. Connecticut-based Boathouse Beverage LLC, which produced the gluten-free Spiked Seltzer brand, launched its product in 2013.
"It wasn't introduced with a lot of fanfare or activity," said Salois, who sells the Spiked Seltzer product. "All of a sudden, it started to catch fire."
Salois and Adams said the success of Spiked Seltzer, a brand they both distribute, might have led Boston Beer to consider an entry of its own.
"I am not surprised that they looked to enter this space," said Adams. "They are trying to appeal to a variety of consumers by offering an array of products to the market."
The challenge now, according to Salois, will be finding space for all three brands.
"We all know the FMB category is doing exceptionally well and that all kinds of flavors are appealing to consumers, but the coolers don't expand," he said.
For his part, Adams believes that Truly has an opportunity to "hunt" near the wine and spirits sections of the store.
"We are going to seek alternative drinkers and those drinkers don't necessarily live in the beer aisle," he said.
Regardless of the drinker demographics, there's plenty of opportunity within the broader category of flavored malt beverages. Year-to-date through March 20, volume sales of all FMB products are up more than 25 percent in supermarkets, according to market research firm IRI Worldwide.