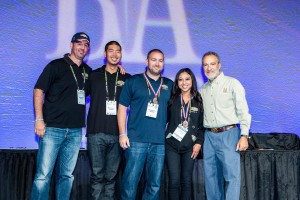 Fullerton, CA – Bootlegger's Brewery, known for their unique line of ales and lagers are proud to bring home two medals from the largest beer competition in the US, the Great American Beer Festival.
Rocco Red won a bronze medal for American Amber/Red Ale out of a total of 140 entries. Rocco Red has been a tasting room favorite that recently joined Bootlegger's full time bottled lineup to a very warm reception from our fans across California. When creating and drinking Rocco Red, it was always considered to be the perfect example of what craft beer drinkers want out of an American Red: a rich malt backbone with a kiss of American hops.
Galaxian Barleywine also brought home a bronze medal in the Barleywine Style-Ale category. Galaxian represents what we refer to as a West-Coast Style Barleywine. When fresh, it's very hoppy and resembles a hop forward double IPA, and after a few months, it mellows out into a smooth malty treat. Galaxian is brewed every winter and will be released again in February 2015.
Winning these medals are of the highest honor and will only motivate Bootlegger's to continue on their path of craft beer excellence. The 2014 GABF competition winners were selected by an international panel of 222 expert judges from the record number of 5,507 entries, plus 89 Pro-Am entries, received from 1,309 U.S. breweries.
About Bootlegger's Brewery
Established in 2008 by husband and wife Aaron and Patricia Barkenhagen, Bootlegger's Brewery is one of the pioneering breweries in the emerging craft beer scene of Orange County California. Bootlegger's makes a diverse portfolio ales and lagers with love and hard work, for the hard working man and woman. Learn more about Bootlegger's Brewery by visiting bootleggersbrewery.com, and follow Bootlegger's on Twitter, Facebook and Instagram.
About the Brewers Association
The Brewers Association is the not-for-profit trade association dedicated to small and independent American brewers, their beers and the community of brewing enthusiasts. The Brewers Association (BA) represents more than 75 percent of the brewing industry, and its members make more than 99 percent of the beer brewed in the U.S. The BA organizes events including the World Beer Cup┬«, Great American Beer Festival┬«, Craft Brewers Conference & BrewExpo America┬«, SAVORÔäá: An American Craft Beer & Food Experience and American Craft Beer Week┬«. The BA publishes The New Brewer magazine and its Brewers Publications division is the largest publisher of contemporary and relevant brewing literature for today's craft brewers and homebrewers.
Beer lovers are invited to learn more about the dynamic world of craft beer at CraftBeer.com and about homebrewing via the BA's American Homebrewers Association. Follow us on Twitter.
The Brewers Association is an equal opportunity employer and does not discriminate on the basis of race, color, national origin, gender, religion, age, disability, political beliefs, sexual orientation, or marital/familial status. The BA complies with provisions of Executive Order 11246 and the rules, regulations, and relevant orders of the Secretary of Labor.