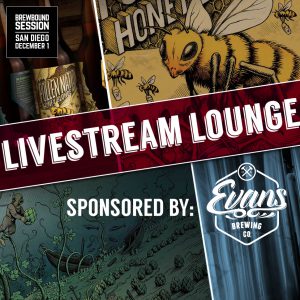 To kick off 2017, we've released more than two hours of bonus footage from last month's Brewbound Session, held at the Paradise Point Resort & Spa in San Diego, Calif.
More than 200 beer industry professionals descended upon San Diego for the bi-annul business conference, but only those tuning in from behind their computer monitors were able to see interviews with notable industry figures such as Craft Brew Alliance CEO Andy Thomas, Storied Craft Breweries' Adam Lambert and Nielsen's Danny Brager.
More than a dozen guests joined various member of the Brewbound team on the "Livestream Lounge," sponsored by Evans Brewing Company, to discuss industry trends, the current deal environment within craft and a variety of other top of mind issues.
Video playback of every Livestream Lounge interview is now available on the Brewbound YouTube Channel.
Hear insight from:
John Reardon (Deep Ellum Brewing)
Christian Ettinger (Hopworks Urban Brewing), Birgit Cameron (Patagonia Provisions)
Andy Thomas (Craft Brew Alliance)
Eddie (M.I.A. Beer)
Gina Marsaglia (Pizza Port Brewing)
Mike Rapport, Kevin Hammons (Evans Brewing)
Adam Lambert (Storied Craft Breweries)
Rick Chapman, Brandon Richards (Coronado Brewing)
Terry Cekola, John Sliter (Elite Brands)
Kimberly Clements (Pints LLC)
Craig Farlie (Farlie Turner)
Danny Brager (Nielsen)
Jeff Brown (Boulder Beer)