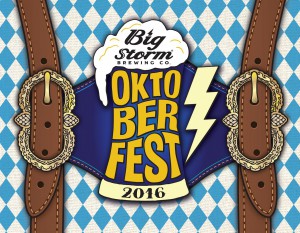 CLEARWATER, FL – Big Storm Brewing Co. announces plans to celebrate the Oktoberfest season. Awarded a gold medal and the title of Best of Show at the "Best Florida Beer Championships," the seasonal Märzen Lager called, "Oktoberfest" will be officially "tapped" at both Big Storm Brewing Co. locations on Sept. 2 and available in wider distribution by mid-September. The month of September also marks the release of Big Storm Oktoberfest in cans, which will be available in six packs and 24 packs in retailers throughout Florida.
"Winning the Best Florida Beer Championship Best of Show with our Oktoberfest Märzen Lager reaffirmed our commitment to brewing the finest handcrafted specialty beer," said Mike Bishop, founder of Big Storm. "We felt the best way to celebrate this honor was to host a month-long Oktoberfest celebration."
The official kick-off is Friday, Sept.16 with a free concert featuring The Black Honkeys at the Pasco Brewery and Taproom, 2330 Success Drive in Odessa, Fla. The celebration continues at the Pinellas Brewery and Taproom, 12707 49th St. in Clearwater, Fla., on Saturday, Sept. 17 with a live performance by The Hunks of Funk.
A three-day outdoor free music festival starts at 7 p.m. on Oct. 14 featuring local band #NoFilter at the Pinellas location. Starting Saturday at 2 p.m., Fast4ward takes the stage followed with a live performance by Jeriko Turnpike. Sunday, Oct. 16 the Bus Stop Band will perform at 4 p.m.
The Pasco location will host its three-day free music festival featuring The Spazmatics at 7 p.m. Friday, Oct. 21; Fast4ward at 2 p.m. Saturday, Oct. 22; followed by a 7 p.m. performance by Jeriko Turnpike. Sunday, Oct. 23 will showcase the Bus Stop Band.
Festival goers at both locations will also enjoy an outdoor biergarten, food trucks, and Stein Hoisting and Big Storm Beard and Moustache contests. The award winning Big Storm Oktoberfest Märzen lager will be available in commemorative drinkware, along with 20 other taps pouring a wide variety of beer styles.
ABOUT BIG STORM BREWING CO
Founded in 2012, Big Storm Brewing Co. was created to fill a void in the Tampa Bay local craft beer market approachable beer, made with spirit, authenticity and quality that everyone could enjoy. From the quintessential beer nerd to the everyday beer drinker, Big Storm beers have earned the reputation for being exceptionally drinkable. Best known for their signature brands Arcus IPA, Wavemaker® Amber Ale, Helicity® Pilsner and Oats In Hose® Oatmeal Stout, Big Storm is a true craft pioneer using locally sourced ingredients like wild flower honey to lend a subtle sweetness for a clean finish in its IPA. These award winning suds are named after the common summer storms along the Gulf Coast of Florida. In early 2016 Big Storm opened their landmark 16,000 SF production brewery and taproom in Clearwater, FL and expanded the original taproom and brewery in Odessa, FL to 8,000 SF.
Big Storm Brewing Coproduces beer that is artisanal, complex and caters to craft beer enthusiasts and regular beer drinkers alike.
For more information, www.bigstormbrewery.com.