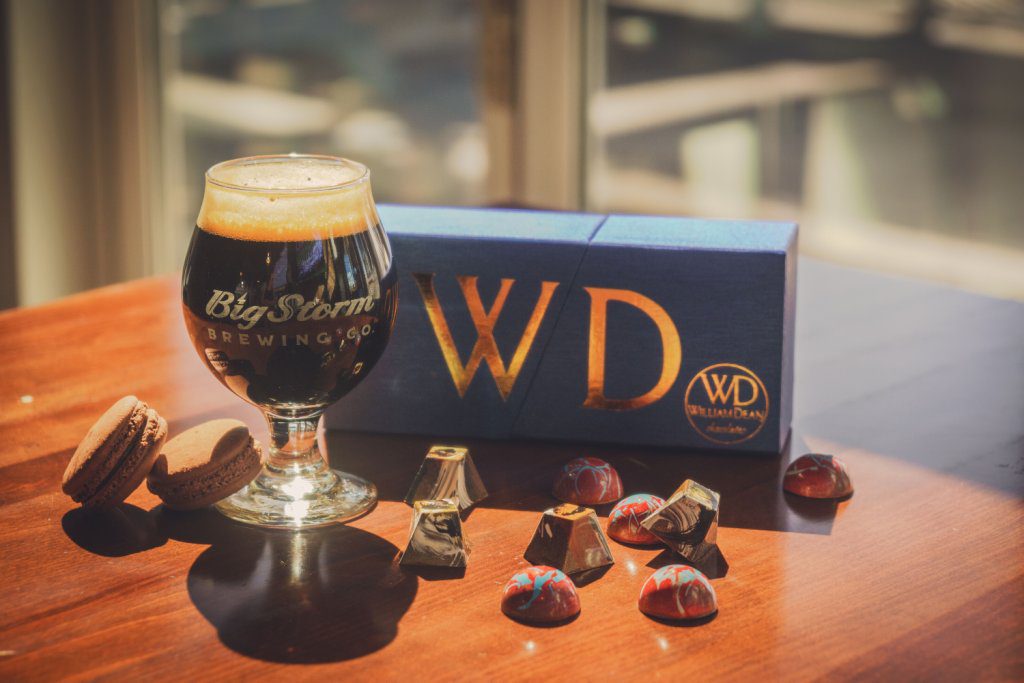 CLEARWATER, Fla. –People don't always think of beer and chocolate paired together, but true beer fans who appreciate stouts and porters understand these flavorful ales and chocolate can be a match made in heaven. That is why Big Storm Brewery and William Dean Chocolates, the company that made the chocolates featured in the movie Hunger Games, are teaming up to create a specialty artisan brew.
Big Storm will release the beer on World Chocolate Day, Saturday October 28th in both the Pinellas and Pasco county taprooms.
William Dean and Big Storm are also challenging Tampa Bay to come up with a name for this artisan brew. People can come into the Big Storm taprooms to try the beer and get their creative juices flowing. Names can be submitted directly to The winner and beer name will be revealed at Big Storm Brewery in Clearwater on Thursday, November 16th.
The person who is first to submit the winning name chosen for this new beer will receive a private 8-person Big Storm Brewery tour, a tap handle for the new beer, a 20-piece box of William Dean chocolates and a supply of the new Big Storm-William Dean beer.
Entrants must be 21 and up and names can be submitted until 10am on November 13th.
Described as a toffee chocolate stout, the beer was crafted to intrigue the palate and invoke thoughts of chocolate covered toffee. A true work of art made from the finest ingredients, this stout pours black with deep garnet highlights. Flavors of sweet toffee and caramelized sugar pair together with a hint of rich, indulgent chocolate.
"Like most endeavors, it takes some time and experimentation to find the right balance between flavors like chocolate and beer," said Head Brewer Joel Moore from Big Storm Brewery. "Sometimes the most fun and challenging part is finding the perfect recipe for a new crafted ale."
Bill Brown, Founder of William Dean Chocolates was intrigued when the subject first came up to use their product for beer brewing.
"The subtle nuances of chocolate are exciting for me," said Brown. "While it took several attempts to get this chocolate stout just right, the final product is an excellent example of pairing great flavors together."
Additionally, William Dean will soon be releasing a chocolate and macaroon made with Big Storm beers.
About Big Storm Brewing Co.
Big Storm Brewing Co. is one of the fastest growing independent craft breweries in Florida.  Founded in 2012 by Mike Bishop, Big Storm now has two brewing and taproom facilities in Tampa Bay.  Led by Head Brewer, Joel Moore, Big Storm's innovative craft beers have received critical acclaim for the past five consecutive years, winning 2016's Best Florida Beer Championship with their Oktoberfest Marzen Lager.  Today, Big Storm is a true pioneer using local ingredients like citrus, chocolate, and wild flower honey, they brew more than 20 different beers.
William Dean Chocolates
William Dean Chocolates is an artisanal chocolate shop in Belleair Bluffs, Fl. where self-taught founder and Chief Chocolate Officer (CCO), Bill Brown, creates award-winning, handcrafted confections. Following the artisan tradition of making everything by hand, William Dean produces small batches of chocolate products, bars and assortments, as well as other confections like Pate de Fruit and specialty popcorn flavors, such as Macadamia and Coconut. Designed to excite the eye and intrigue the palate, these works of art are made from only the finest ingredients and without the use of preservatives. William Dean products and seasonal specials introduced throughout the year are available for shipping across the U.S. For more information, please visit https://www.williamdeanchocolates.com.