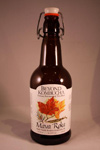 Last summer the Federal Alcohol and Tobacco Tax and Trade Bureau (TTB) cracked down on the Kombucha category, forcing many brands whose alcohol content in the drink exceeded the legal limit of 0.5 percent ABV off the shelves.
And while category leaders like GT and High Country Kombucha committed to altering their recipes in order to remain under the legal limit, offering products in the "near beer" segment, others like Queens, N.Y. based Beyond Kombucha took a different approach.
"I didn't want to reformulate," said Beyond Kombucha founder, Spiro Theofilatos. "I could not get my product under 0.8 percent by volume without altering the taste. I didn't want to change my recipes so I decided to go a different direction."
Theofilatos recently received federal and state approvals for a brewery license, allowing him to explore alcohol positive kombucha styles in the ale, mead and cider categories.
"I love the freedom to explore with higher alcohol," he said. "I think marrying the two worlds is great and could be a new trend."
Theofilatos said those unfamiliar with kombucha often make comparisons to sour beers, a trend that continues to gain momentum in the craft category. Kombucha also has multiple fermentation stages with primary fermentation occurring in open air glass barrels.
It's not the first time kombucha has crossed paths with the craft beer industry either. Goose Island produces 'Fleur,' a Belgian Style pale ale brewed with hibiscus and kombucha tea and Dogfish Head brewed Fungus Tea'Mungus for the annual Beer Advocate Extreme Beer Fest earlier this year.
Theofilatos is certainly aware of the similarities and is positioning Beyond Kombucha alongside other high-end craft beers. His most popular offering, Mava Roka, checks in at 6.5 percent ABV and is distributed in 16 ounce bottles with a cantilever closure much like the internationally recognized Grolsch brand.
Additionally Theofilatos is looking to institute a growler program where both on and off premise retailers can refill a customer's 'mini-growler' with fresh kombucha beer. He expects to retail a 16 oz. bottle for around $7.00, $2.00 of which is considered a "deposit" on the bottle itself.
Theofilatos is currently self-distributing the beer to a number of bars and restaurants in the Queens area and expects to begin selling-in to off-premise accounts in early January.
Beyond Kombucha is the first licensed kombucha brewery on the east coast. Other regional kombucha manufacturers with brewery licenses include Unity Vibration (MI), Deane's Kombucha (MN), Invisible Alchemy (OR) and CommuniTea (WA).
Those looking for more information on Beyond Kombucha can check out their facebook page.