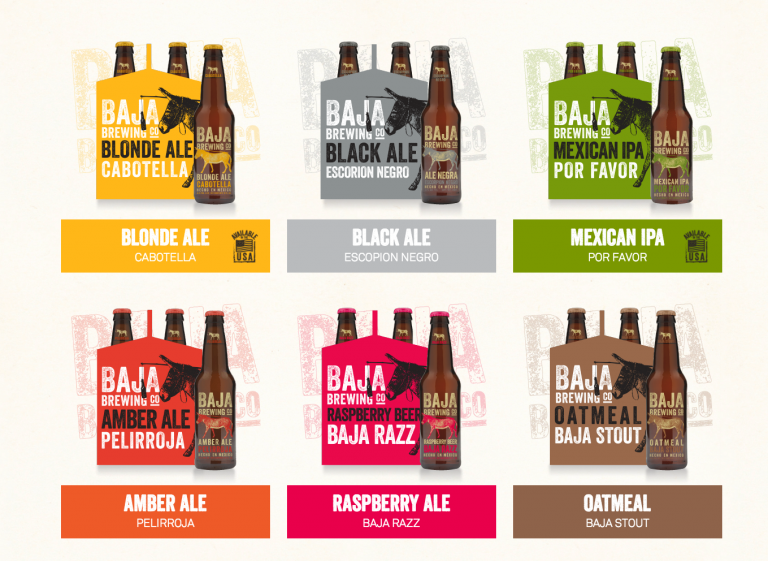 San Jose del Cabo, Mexico, — Baja Brewing Company (BBC), the original craft brewery in the Mexican state of Baja California Sur, debuts its new brand identity which includes a full-scale redesign of its entire line of products. Newly created packaging, tap handles, website and POS materials are live and painted bottles will begin shipping in late Q1 of 2017.
BBC partnered with San Diego firm Libre Design to create new positioning aimed at modernizing the brand while visually telling Baja Brewing Company's story. The goal of the refresh was to establish greater brand recognition across BBC's offerings and bring uniformity to its packaging as the brewery expands distribution in both Mexico and the United States.
"Over the past 10 years, our beer has evolved, and it was time for the branding to follow," said Jordan Gardenhire, Founder and Brewmaster of Baja Brewing Company. "Our spirit is all about Baja, and we wanted our look to truly represent who we are and where we live. We have a unique product and live in a unique place, and I think our rebrand helps capture that essence of Baja Brewing."
Libre produced a new visual system that embraces the natural, authentic and inspirational spirit of Cabo. Inspired from its rugged landscape, the new brand palette is historic and bold, creating a clean presence on the shelf.
As the official brand mascot of BBC, the beloved donkey remains at the core of the design. Libre elevated the four-legged advocate to be more distinct and commanding. The donkey symbolizes Baja Brewing Company's adventurous spirit, in search of that perfect brew.
"Being the first craft beer brewery to come from Baja is a major point of difference in the world of craft beer," said Justin Heit, Founder of Libre Design. "We had the pleasure of building on Baja Brewing Co.'s DNA and refreshing its brand identity. Our goal was to stay true to the brand's values while modernizing the look and feel."
Since its inception in 2007, BBC has been pushing the boundaries of Mexican beer. The company's mission from the start was to bring a craft brewing culture to Mexico similar to that in Colorado, where Gardenhire first began brewing beer while in college at the University of Colorado, Boulder.
With three brewpubs in Los Cabos, BBC features eight different beer styles, plus seasonal beers, focusing on all-natural and local ingredients. The brewery distributes throughout Southern Baja and Mexico and in 2012, entered the U.S. market with its flagship blonde ale, Cabotella (CAH-bo-TAY-uh), a play on words meaning "Cabo in a bottle." In early 2016, BBC began importing its Mexican IPA, which is named Peyote Pale Ale in Mexico but called Por Favor in the U.S. Both styles will be available in eight states including Arizona, California, Colorado, New Mexico, Oklahoma, Texas, Utah and Illinois. Further U.S. expansion and the launch of cans are on the horizon.
BBC is a founding member of the organization called Acermex, The Mexican Craft Brewers Association. Acermex is considered a trailblazer for Mexican brewery regulations and licensing rights and since it launched in 2015, the association has grown to 45 members. The goals of Acermex are to establish and define craft beer in Mexico, defend the category and update the tax laws surrounding it.
2016 was an exciting year for the company. In addition to the launch of the rebranding and expanded growth, Baja Brewing Company partnered with the touring show LUZIA™ by Cirque du Soleil® in San Francisco as the official craft beer sponsor. Transporting audiences to a place suspended between dreams and reality, LUZIA is a poetic and acrobatic ode to the rich, vibrant culture of Mexico.
For more information about Baja Brewing Company, visit www.bajabrewingcompany.com.