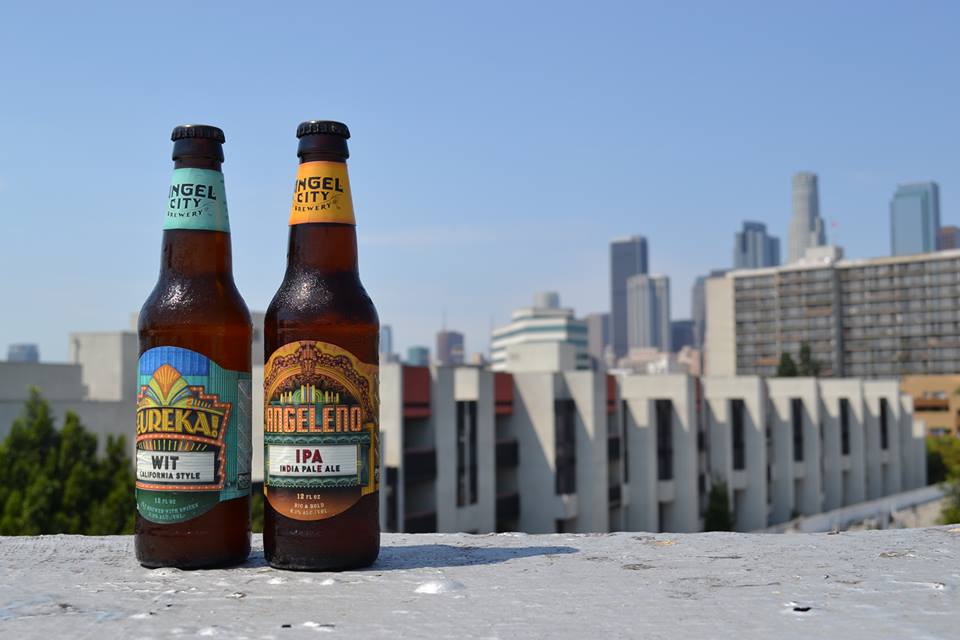 LOS ANGELES — Summer may be winding down but things are just heating up at Angel City Brewery. Angel City has been selling beer to local bars and restaurants for more than a year and has been open to the public since this spring. Finally, Angel City Brewery's beers are now available in bottles and bombers for Los Angeles' craft beer loving denizens to enjoy at home.
Angel City's two flagship brews —Eureka! Wit and Angeleno IPA — will be the inaugural lineup filling 12-ounch bottles and 22-ounce bombers. Eureka! Wit is a perfectly balanced Belgian Wit with bold fruit and clove notes, balanced with a subtle citrusy hop finish. Angeleno IPA, is a big, bold, medium-bodied and copper-hued beer nuanced with grapefruit hop flavors and aroma. Whatever the preference — hop heads or session seekers — Angel City's six packs and bombers will be easily found in liquor stores, specialty craft beer shops and convenience markets throughout L.A. A full list of locations can be found on the Angel City website.
In celebration of the brewery's bottle launch, Angel City is also kicking off the "What Would You Brew?" (http://www.angelcitybrewery.com/wwyb) contest, with the grand prize of a day of brewing with Angel City's head brewer, Dieter Foerstner, an Angel City kegerator, tap handle, case of pint glasses and Angel City tin sign. Between now and October 31st, ambitious Angelenos are invited to enter the contest on Facebook by telling Angel City what beer they would brew for the city of L.A., why it embodies the City of Angels, any special ingredients and a beer name. Entrants will be judged by the Angel City Brewery Team based on the creativity and uniqueness of their answer, alignment with the Brewery's values and the entrant's passion for beer and the city of Los Angeles.
Score the grand prize or just bring home some Angel City six packs. Either way, you win.
Angel City Brewery just celebrated its official opening on May 4 and is now fully open to the public after more than a year of building and brewing. The Public House is Angel City's own 19-tap bar serving a changing roster of classic and newly inspired brews. New hours areMonday-Thursday, 4:00pm — 10:00pm, Friday 4:00pm — 12am, Saturday 12:00pm — 12:00am, and Sunday 12:00pm — 10:00pm. The brewery will house a regular roster of events ranging from art shows and live music to game nights, and beyond.
About Angel City Brewery
Angel City BreweryÔäó is excited to be part of the renaissance of Downtown LA by bringing old-world, small-batch, craft brewing to the new world of the expanding Arts District. Angel City is committed to the continued growth and revitalization of its neighborhoods by being an interactive and supportive partner to the arts and business communities, as well as the burgeoning craft beer movement in Los Angeles. Angel City Brewery is located at located at 216 South Alameda Street, Los Angeles, CA 90012. Angel City Brewery is online atwww.AngelCityBrewery.com, on Facebook and on Twitter. The phone number is (213) 622-1261.