In an effort to halt a sales slide for one of its most popular flagship brands, Boston Beer Company today unveiled a reformulated recipe for Samuel Adams Rebel IPA that now features the popular Mosaic hop variety as well as a new grain bill void of caramel malt.
It's the first time in Boston Beer's 32-year history that the company has "significantly changed" the recipe of a flagship beer, according to founder Jim Koch, and it comes just three years after the product was first introduced nationally.
After debuting with strong revenues, sales of Rebel dropped 23 percent last year, according to market research firm IRI. That has forced Boston Beer to re-think how it would attack craft beer's most popular style category: India Pale Ale.
The new Rebel IPA recipe will also include HBC 566, a proprietary hop variety developed with Perrault Farms, a Washington state hop breeder, as well as another experimental variety — HBC 682.
"Our new Rebel IPA is just starting to hit shelves now and we think drinkers will notice a significant flavor difference between the old and the new recipe," Koch wrote to Brewbound in an email, noting that the Mosaic hop flavor is "predominant."
Combined, the new hop additions will impart lemon, lime, orange and eucalyptus flavors and give Rebel IPA an earthy aroma, the company said in a press release.
"Our goal was to showcase the intricate aromas and flavors of hops, especially with new, experimental hop varieties HBC 566 and HBC 682," Koch said via the release.
Boston Beer also altered the Rebel's grain bill, brewing exclusively with a "special" two-row malt blend.
"By removing the caramel malt, Rebel IPA's body is less malty, resulting in a cleaner, brighter IPA with more tropical, citrus, and pine-forward notes," the company noted in the release.
First test-marketed in 2013, Rebel IPA was originally brewed with Chinook, Centennial, Cascade, Simcoe and Amarillo hop varieties. Amarillo is the only hop no longer included in the new recipe.
Released nationally in 2014, Rebel quickly climbed market research firm IRI Worldwide's list of top-selling craft brands at multi-outlet and convenience stores, ranking ninth with more than 1 million cases sold. Those upward trends continued throughout 2015, as volume sales grew more than 12 percent, according to the firm.
But stiffer competition from a growing number of small craft beer producers coupled with a consumer shift toward IPAs with tropical and citrus flavors led to steep declines for Rebel IPA in 2016.
Since 2014, the company has also created a number of Rebel line extensions, including Rebel Rider Session IPA, Rebel Rouser Double IPA, Rebel Grapefruit IPA, Rebel Raw IPA and, most recently, Rebel Juiced IPA, which is infused with mango.
Rebel Juiced, which also features Mosaic hops, will be released this month in cans and bottles for a suggested retail price of $7.99 – $9.99 per 6-pack, according to the company.
It's worth noting that the amount of Mosaic hops harvested in Washington and Idaho grew 276 percent since 2014, according to recent data from the United States Department of Agriculture.
When asked if the decision to include Mosaic hops in the new Rebel IPA recipe was driven by an increasing consumer demand for its flavor and aroma attributes, Koch said test brews with the hop were the primary driver.
"Based on our experience with Mosaic hops and some recent single hop trials in our nano brewery over the past couple of years, we felt in combination with classic American hops and HBC 566 and HBC 682, that Mosaic really contributed to the bright tropical and citrus notes of Rebel IPA," he wrote to Brewbound in an email.
The company's full press release has also been included below.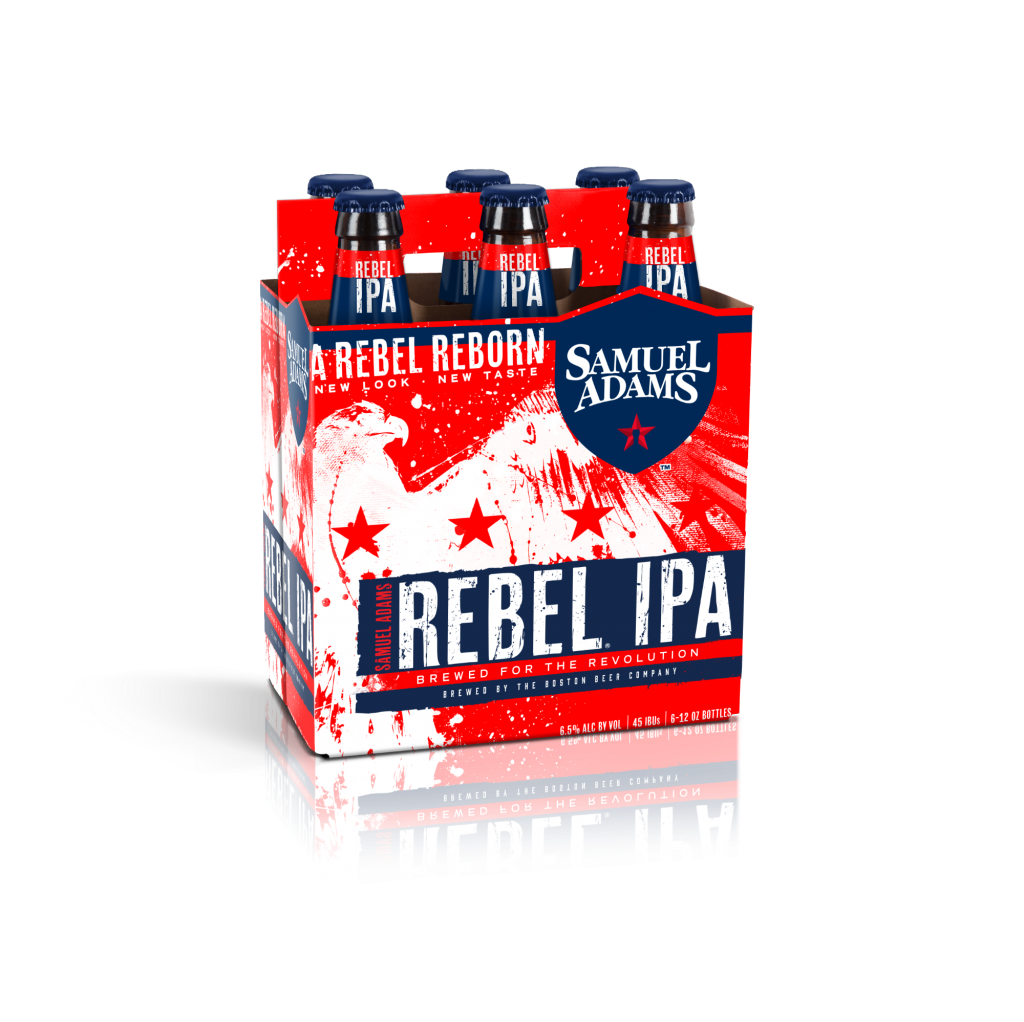 BOSTON — For the first time, the brewers at Sam Adams have completely reformulated a popular flagship beer: Rebel IPA. After more than four years, the brewers undertook what they called "Project Lupulus," an experiment that takes advantage of hops that were not readily available or have been newly cultivated since Rebel IPA first launched in 2014. As part of this project, the brewers collaborated, starting in 2013, with a hop breeder in Yakima Valley, WA to create a new hop variety proprietary and exclusive to Sam Adams called HBC 566. After months of experimenting with dozens of trial batches at the Boston Brewery, the brewers are now ready to release the new Rebel IPA recipe which is brewed with HBC 566 and another new experimental hop variety for bittering, HBC 682. Rebel IPA now has a more intense juicy, tropical and citrus flavor supported by a leaner body and a crisp, clean finish to optimize the hop character.
About Rebel Reborn
So what changes? Paying homage to the original recipe, Rebel IPA is brewed with a few of the original hop varieties including Cascade, Centennial, Simcoe® and Chinook. For the 2017 release, the brewers added Mosaic hops, alongside HBC 566, a new hop proprietary to Sam Adams, and HBC 682, a new, experimental bittering hop.
Project Lupulus refers to the scientific name of a hop, Humulus lupulus, and its special lupulin glands which are the fundamental source of flavor, bitterness, and aroma in hops. For Project Lupulus, the brewers looked to optimize the flavor of each hop variety by changing up the blend and ratio of hops for the new Rebel IPA. Ultimately, seven hops were chosen for their unique character, including:
HBC 566: A Sam Adams proprietary hop variety, HBC 566 adds a touch of lemon/lime, orange and eucalyptus flavor that can be found with the addition of this exclusive hop variety.
HBC 682: Experimental hop HBC 682 is used solely as a bittering hop in Rebel IPA to impart a pleasant bitterness with a strong and earthy aroma
Mosaic: New to Rebel IPA, Mosaic hops impart tropical, fruity, and pines notes. In 2011, Sam Adams was one of the first breweries to experiment with Mosaic hops in a collaboration beer with Dogfish Head called SAVOR Flowers;
Cascade: A leading hop in the new Rebel IPA, Cascade hops impart floral, spicy, citrus, and grapefruit character;
Simcoe®: A staple of IPAs, Simcoe hops impart a strong piney character as well as apricot and citrus notes;
Centennial: Centennial hops are intensely floral with hints of wood and a medium citrus character;
Chinook: Chinook hops provide a piney character and a light spice note;
To dial up the hop impression, the newly reborn Rebel IPA removed caramel malt from the grain bill and now is brewed only with Samuel Adams special two-row malt blend. By removing the caramel malt, Rebel IPA's body is less malty, resulting in a cleaner, brighter IPA with more tropical, citrus, and pine-forward notes.
Founder & Brewer of Samuel Adams, Jim Koch, on Reformulating Rebel IPA:
"This is the first time we've significantly changed the recipe of a flagship beer. As hop varieties evolve, we want to use the new varieties to keep brewing the best beer possible," said Jim Koch. "Like with the original Rebel IPA recipe, this release isn't a palate-scorching hop-bomb. Our goal was to showcase the intricate aromas and flavors of hops, especially with new, experimental hop varieties HBC 566 and HBC 682. Not that long ago, it was a challenge just to find quality, flavorful hops and now, we're developing our own proprietary hop with unparalleled lemony-lime, orange and eucalyptus notes. It's wild to think how far the brewing industry has come and that today, a beer can evolve."
Nano Brewery Manager, Megan Parisi, on Rebel IPA test batches:
"Even before we started brewing Rebel IPA, we were exploring the many varieties of hops and how they affect the flavor of a beer with Project Lupulus," said Brewer Megan Parisi, who manages the nano brewery. "We averaged at least one new test brew in the nano each week since we started tinkering with the Rebel IPA recipe and our new hop varieties. It was awesome being able to brew with a new hop variety that had never been used. After dozens of test batches of single hop brews, various blends, and of course, taste testing, it is a pleasure to finally share our new Rebel IPA recipe with drinkers."
About the Rebel IPA Family
Rebel IPA was the first beer that originated in the Samuel Adams Nano Brewery, the epicenter of experimentation for new beers located within the Boston Brewery. When Samuel Adams launched Rebel in 2014, the brew became the most successful release of a craft beer brand [1]. Now, IPAs are the primary driver of craft volume growth1. Since 2014, the Rebel family has expanded to include Rebel Rouser Double IPA, Rebel Grapefruit IPA, and Rebel Juiced IPA.
In January 2017, Samuel Adams Rebel Juiced IPA, a West Coast IPA infused with mango, will be now available in cans and bottles. At 55 IBUs, the brewers selected the hop varieties based on their tropical aromas and juicy flavors rather than for their bitterness. Zeus hops were used in the kettle and Mosaic and Mandarina hops were used to dry hop. The result is a medium-bodied beer with a slightly veiled golden color that brings a big tropical aroma of guava, passionfruit and mango.
Rebel IPA Availability
Samuel Adams Rebel IPA and Rebel Juiced IPA will be available nationwide in early 2017 on draft, in six-packs for a suggested retail price of $7.99-$9.99, and both brews will be in the Pack of Rebels variety pack (bottles and cans) which also includes Rebel Grapefruit IPA and Rebel White Citra IPA for a suggested retail price of $14.99-$17.99. Rebel IPA will be available in 12-packs (bottles and cans) for a suggested retail price of $14.99-$17.99. Price for each package varies by market. Drinkers should look for new Rebel Reborn packaging hitting shelves in coordination with the release of the new Rebel IPA recipe.
To find where Samuel Adams beers are sold near you, visit www.samueladams.com/find-a-sam.
ABOUT THE BOSTON BEER COMPANY
The Boston Beer Company began in 1984 with a generations-old family recipe that Founder and Brewer Jim Koch uncovered in his father's attic. Inspired and unafraid to challenge conventional thinking about beer, Jim brought the recipe to life in his kitchen. Pleased with the results of his work, Jim decided to sample his beer with bars in Boston in the hopes that drinkers would appreciate the complex, full-flavored beer he brewed fresh in America. That beer was aptly named Samuel Adams Boston Lager, in recognition of one of our nation's great founding fathers, a man of independent mind and spirit. Little did Jim know at the time, Samuel Adams Boston Lager would soon become a catalyst of the American craft beer revolution.
Today, The Boston Beer Company brews more than 60 styles of beer. It relentlessly pursues the development of new styles and the perfection of classic beers by searching the world for the finest ingredients. Using the traditional four vessel brewing process, the Company often takes extra steps like dry-hopping, barrel-aging and a secondary fermentation known as krausening. The Company has also pioneered another revolution, the 'extreme beer' movement, where it seeks to challenge drinker's perceptions of what beer can be. The Boston Beer Company has been committed to elevating the image of American craft beer by entering festivals and competitions around the globe, and is one of world's most awarded breweries at international beer competitions. As an independent company, brewing quality beer remains its primary focus. Although Samuel Adams beer is America's leading craft beer, it accounts for only one percent of the U.S. beer market. The Boston Beer Company will continue its independently-minded quest to brew great beer and to advocate for the growth of craft beer across America. For more information, please visit www.samueladams.com.
Samuel Adams, Samuel Adams Boston Lager, Samuel Adams Rebel IPA and Boston Lager are registered trademarks of Boston Beer Company.