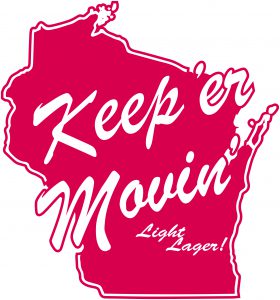 MADISON, Wisc. — Regional craft brewery Ale Asylum has partnered with award-winning Comedian and Social Influencer Charlie Berens on the release of Keep 'er Movin', a German-style Pilsner Lager.
Berens is the creator of the Manitowoc Minute, a comedic homage to Wisconsin culture. His videos embody the easy going spirit of Wisconsin with a comedic style that resonates regardless of geographical location. "I'm from northern Wisconsin so Charlie's tongue-in-cheek take on the Wisconsin experience strikes a chord with me. His sense of humor will strike a chord with anyone that has a funny bone," says Ale Asylum Co-Founder Otto Dilba. "Ale Asylum is excited to share this laid back lager with our fellow cheeseheads and those familiar enough with Wisconsin mannerisms to laugh and drink along with us."
Wisconsin expats will have to smuggle this one across the Cheddar Curtain. Keep 'er Movin Light Lager will be available on draft and in 12 oz. can six-packs throughout (and only in) the state of Wisconsin beginning November 1.
The official Keep 'er Movin' launch party will be at the Ale Asylum Riverhouse in Milwaukee following Charlie's two-show line-up at the Pabst Theater the night before. Details Follow:
Date: Sunday November 4
Time: 4-6pm
Location: Ale Asylum Riverhouse, 1110 N. Old World 3rd St., Milwaukee
Giving Component: $1 of every Keep 'er Movin' sold will benefit the Boys and Girls Clubs of Greater Milwaukee