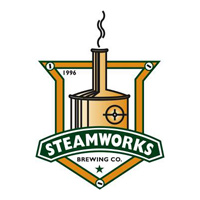 DURANGO, CO — The brewdogs at Steamworks Brewing Co. were feeling the heat (and wafting sentimental about Austin Powers) and thus created the perfect lusty brew for July's Firkin Friday, a "shandy-style" beer christened the Randy Firkin. Firkin Fridays continues at Steamworks on July 6, 2012, with the cask to be tapped at 3 p.m.
"A shandy is beer mixed with citrus-flavored soda, carbonated lemonade, ginger beer or ale or cider," explained Ken Martin, Steamworks head brewer. "For our firkin, we used our Hefeweizen as a base, and then made a mixture of sugar, fresh-squeezed lemons, lemon zest and fresh ginger to create a unique lemonade."
"The combination our lemonade and Hefeweizen should make for one very light and refreshing wheat beer with some citrus and spice," added brewer Spencer Roper. "So if you're feeling a bit randyÔǪ"
A firkin is an old English unit of volume, typically a wooden cask equal to approximately one-quarter of a regular barrel, or nine gallons. Firkin beer is unpasteurized, unfiltered and naturally carbonated, or conditioned, it its cask. It is served at approximately 55 degrees – cool but not cold, and because it contains no preservatives, it's designed to be consumed after tapping.
Steamworks initiated its Firkin Fridays to introduce unusual, specialty craft beers to patrons, and augment its regular, award-winning offerings.
Steamworks Brewing Co., open 11 a.m. to closing seven days a week, is located at 801 E. Second. Ave., Durango (970.259.9200). For further information, visit www.steamworksbrewing.com.