In 2013, New Belgium CEO Kim Jordan told Brewbound that the Colorado brewery would sell its products in all 50 states by 2018.
It looks like her company's goal of becoming a nationally distributed craft beer brand will happen slightly ahead of schedule.
The company today announced that it would enter the four remaining states — Oklahoma, Maine, New Hampshire and Vermont — and fill out its national distribution map in the first half of 2017. The move is bolstered by the additional capacity now available at an Asheville, North Carolina, production brewery that went online in 2016.
The final phase of New Belgium's national rollout begins February 6 in Oklahoma through MillerCoors houses Capital Distributing, Hitchcock Distributing Inc., Glazers Beer and Beverage, Jett Distributing Company, LDF Sales and Distributing Co., Pope Distributing Company and Southwest Sales Inc. Those companies will distribute 3.2 percent ABV Fat Tire to grocery stores while Oklahoma Beer Imports will allocate all of the brewery's full-strength beer to independent liquor stores.
Starting March 20, New Belgium will begin distribution in Vermont via Baker Distributing Corporation (MillerCoors) and in New Hampshire through Anheuser-Busch houses Clark Distributors, White Mountain Distributors, New Hampshire Distributors and Bellavance Beverage Company.
In April, New Belgium will enter its 50th state, Maine, via Pine State Trading Co. (MillerCoors) and National Distributors Inc. (Anheuser-Busch).
"It feels great to lock in these final states for distribution," New Belgium's Northeast and Canada sales director Rich Rush said in a press release. "We have always taken a very measured approach to growth and that model has served us well. That said, it's immensely fulfilling to know that we'll be a fully national brand with distribution in all 50 states this year."
Last November, New Belgium, the fourth-largest craft brewery as defined by the Brewers Association, announced it would open Massachusetts in early 2017, signaling a forthcoming Northeast expansion.
Each new market will receive a mix of year-round, seasonal- and specialty-release beers in bottles, cans and draft.
New Belgium, which produced 914,063 barrels of beer in 2015, finished 2016 with more than $197 million in sales in grocery and convenience stores, according to data from market research firm IRI Worldwide.
Dollar sales for flagship Fat Tire amber ale grew 1.5 percent in those stores, finishing at $87.2 million, up $1.2 million year over year. However, volume sales decreased by about 0.3 percent on the year, according to the firm.
Jack's Abby Switches Vermont Wholesalers
Jack's Abby announced Tuesday it would be switching its Vermont distribution partner "effective immediately."
The Framingham, Massachusetts-based, lager-focused brewery is moving to Baker Distributing for "expanded coverage and deeper market penetration throughout the state of Vermont," according to a press release.
Jack's Abby is leaving behind its first out-of-state wholesale partner, Grassroots Distribution, which it had been aligned with since 2012. A press release described the relationship as "nothing but positive" with Grassroots Distribution's Bob Montgomery also offering praise for the brewery.
"While we are certainly sad to see them move on, we are genuinely excited for their future, their growth and their continued excellence" Montgomery said in the release. "We wish the entire Jack's Abby family and team all the best and they move ahead, and we look forward to enjoying Jack's Abby around Vermont for years to come."
Jack's Abby co-founder Sam Hendler added: "It has been a pleasure working with them and we have learned a lot from their dedication to selling great, fresh, craft beer. They held up to every commitment they made, and will continue to be our friends in the industry for years to come."
Since opening a new 67,000 sq. ft. brewery in 2015, Jack's Abby has grown to 50,000 barrels of capacity with the ability to expand to more than 125,000 barrels of beer annually.
Founders Brewing Co. Goes Statewide in Alabama
Founders Brewing Co. announced last week that it had completed statewide distribution in Alabama. The Grand Rapids, Michigan-headquartered brewery known for All Day IPA will be partnering with Allstate Beverage and Gulf Distributing.
"The need for us to complete statewide distribution has been apparent for some time now," Founders' vice president of wholesaler development Michael Bell said in a press release. "We have had a strong presence in the northern portion of the state but have always fielded requests from craft consumers and retailers to have more access to our beers throughout Alabama."
Founders was already available in Alabama's northern counties through Birmingham Beverage.
Working with Allstate Beverage will put Founders' beer in 25 counties in the greater mid-state area around Montgomery while Gulf Distributing moves the company into the greater Mobile area with seven counties in the gulf region.
Launch events are scheduled to begin Wednesday.
According to IRI, Founders grew dollars sales 54 percent, to $53.8 million, in 2016. The company's volume sales also increased 65 percent during the year. All Day IPA led the way, up more than 76 percent in grocery and convenience stores.
Rhombus Guys Brewing Adds Twin Cities Distribution
Grand Forks-based Rhombus Guys Brewing will send its beer to the Twin Cities beginning January 30, according to a report in Prairie Business Magazine.
Rhombus Guys co-owner Matt Winjum told the magazine that his company's move into Minnesota will increase sales by about 6,000 cases of beer.
Manhattan Beer Project Partners with Flood Independent Distribution
Dallas, Texas-based Manhattan Beer Project will begin distributing its beer through craft-centric wholesaler Flood Independent Distribution.
"From the very inception of this little project of ours, we knew we wanted our partners, vendors, and venues to be aligned with our vision," the brewery announced on its website in mid-January. "Well, that was a bit of a challenge in the distribution world…until we met Kyle [White] and the Flood team. Like us, Flood has a tightly focused portfolio of beers they believe in. They're an independent group with a non-big beer approach (cheers!). And they happened to be building their draft program when we launched our draft only brewery. It was kismet."
The new deal will send Manhattan Beer Project brews throughout the Dallas-Fort Worth Metroplex.
Maplewood Brewery and Distillery Moves into Michigan
Maplewood Brewery and Distillery has added Michigan to its distribution footprint. This is the Chicago-based brewery's first foray outside of Illinois with the addition of southwest Michigan via Bud Distributing.
Maplewood co-founder Ari Megalis told the Guys Drinking Beer website that the "mom and pop" vibe and small distribution footprint led to a deal being struck.
"As a smaller brewery, this appealed to us and our current production capacity," Megalis told the website. "Also, as our capacity grows in the future, we can consider other parts of Michigan with an already established presence in at least a small part of the state."
Maplewood will send Pulaski Pils, Charlatan APA, Fat Pug Oatmeal Milk Stout, Mind FK Russian Imperial Stout, Son of Juice IPA and Dark Saison with Cranberry to Michigan.
Destihl Brewery Opens Florida Market
Bloomington, Illinois-based Destihl Brewery will expand its Florida distribution this week, according to a press release. The move was made possible with the extra capacity that the brewery will gain by opening a 47,000 sq. ft. production brewery in Normal, Illinois, this spring.
"Building the new production brewery is enabling us to move forward again with our expansion into new, exciting markets like Florida," Destihl founder, brewmaster and CEO Matt Potts said in a press release. "We look forward to this opportunity for Destihl beers to widely be available in this state, which has had many fans seeking our beers for years. The key in making this happen was to team up with a new distribution company that is set up for success with an experienced group of founders who are very passionate about our beers."
Destihl has signed with Medley, FL.-based Progressive Distribution.
"We are very excited and honored that Destihl Brewery has joined the Progressive Distribution family. We look forward to a long-term business and personal relationship with the Destihl team as we grow their brand in the Florida market", Progressive Distributors' Jeff Erwin said in a release.
Destihl beer is now available in 19 states.
Burial Beer. Co. Begins Distributing in New York
Shortly after pulling out of the South Carolina market, Burial Beer Co. added distribution to New York.
Union Beer will distribute the Asheville, North Carolina-based brewery's beer to the Manhattan and Brooklyn areas.
"Union Beer is thrilled to help introduce Burial Beer Co. from Asheville, NC to the ever growing beer scene in NYC and the Hudson Valley," Union Beer sales manager of the specialty division Mike Naclerio said in a press release. "We've long been fans of not just their great beer but also the incredible brand they've built through their artwork and vision."
Burial touted the move as a goal to get Burial beers in the owners' hometowns and communities.
"Despite the, sometimes daunting, size of New York City, it is my home," Burial co-owner and head of sales Jess Reiser said in a release. "It is where I grew up, my roots are there and I couldn't be happier to be bringing our passion home. "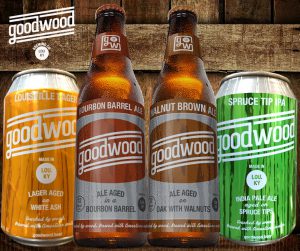 Goodwood Brewing Hits Missouri
Louisville, Kentucky-based Goodwood Brewing Co. opened distribution in Missouri through Major Brands last week.
Goodwood beer will be available in St. Louis, Kansas City, Columbia, Springfield and surrounding areas before starting statewide coverage.
"We couldn't be more excited to partner with Major Brands to bring our Goodwood products to our neighbors to the west," Goodwood CEO Ted Mitzlaff said in a press release. "Our wood-touched, limestone water beers are of the highest quality and we know Missourians are going to love drinking them as much as we enjoyed making them."
Goodwood now boasts distribution to 11 states.