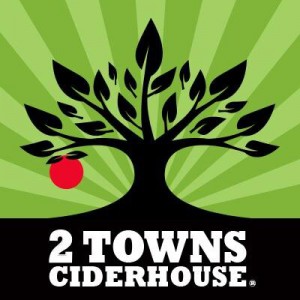 Corvallis, Ore., — 2 Towns Ciderhouse is excited to announce its partnership with Craft LA, a Los Angeles area distribution company. Craft LA now distributes craft cider throughout the LA area, including Orange, Los Angeles, Riverside, Ventura, Santa Barbara and San Bernadino counties. Corvallis, Oregon-based 2 Towns Ciderhouse makes craft cider using fresh-pressed, 100 percent Northwest apples and is one of the county's most respected craft cider makers.
"2 Towns Ciderhouse appreciates Southern California's love of quality and experimentation and its culture of reinvention. We share these values and are excited to share our ciders with the help of Craft LA," said Nels Jewell-Larsen, 2 Towns Ciderhouse director of business development. "We look forward to working with Craft LA and are confident they will be a great partner to bring a true craft cider to Southern California."
Craft LA now carries the full 2 Towns Ciderhouse line, including flagship BrightCider, Ginja Ninja, OutCider, Bad Apple, and Made Marion ciders plus seasonal ciders Rhubarbarian, Cherried Away, Serious Scrump, Nice & Naughty and Hop & Stalk. In addition, they will distribute limited-release ciders that previously have included ingredients such as Southern California's prolific prickly pear and Willamette Valley black currants. 2 Towns ciders will be available at Whole Foods, BevMo!, Cost Plus and select Total Wine stores as well as other local bottle shops, bars and restaurants, on tap as well as in bottles and cans.
"2 Towns Ciderhouse crafts some of the best and most awarded and inventive ciders available," said Scott Liebowitz, market manager of Craft LA Distributing. "We are excited to bring its ciders to one of the most exciting markets in the the country."
About 2 Towns Ciderhouse
At 2 Towns Ciderhouse we believe that the long history of cidermaking demands respect and deserves to be done right. Starting with the highest quality whole ingredients from local farms, we take no shortcuts in crafting our ciders. We never add any sugar, concentrates or artificial flavors, and instead use slow, cold fermentation methods to allow the fruit to speak for itself. As a family-owned company, we are committed to the growth of our team and enrichment of our communities. We take pride in producing true Northwest craft cider. For more information on 2 Towns Ciderhouse, visit www.2townsciderhouse.com.
About Craft LA
In 2013 Sheehan Family Companies acquired a greater LA area wholesale operation and renamed it Craft LA. Craft LA has a portfolio of top craft beer and cider brands and imports. Craft LA serves Orange, Los Angeles, Riverside, Ventura, Santa Barbara and San Bernadino counties with a commitment to timely, enthusiastic and responsive service.