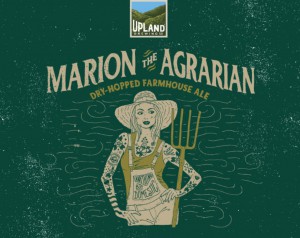 Bloomington, IN — Upland Brewing Co. announced today that it will release Marion the Agrarion Dry-Hopped Farmhouse Ale in early May on draught and in 4 packs throughout their distribution area. It will be on tap at Upland pubs and tap rooms starting Friday, May 6th.
Beer Description: Dry-hopped with Mosaic and Mandarina Bavaria hops and sweetened with locally sourced honey, this isn't your typical farmhouse ale. This brew is approachable and refreshing with a kick that will sneak up on you.
ABV: 7.5% IBU: 30
About the Brewery:
The name Upland derives from the term geologists gave to the hilly region surrounding Bloomington, Indiana, which was never overrun by the glaciers that flattened much of Indiana's landscape. The adversity of the geography bred independent thinkers who had strong wills, a connection to the land, and a wry sense of humor about life. The brewery's mission of "making remarkable beers in remarkable ways" honors the spirit of these people and this place. Upland brews over 50 different styles of beer annually. For information about brewery tours and our brewpubs, please visit: www.uplandbeer.com.