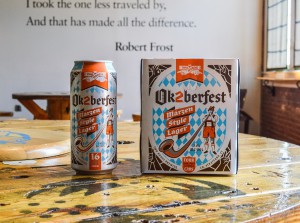 Stratford, CT — Two Roads Brewing Company is proud to announce that their Märzen lager, Ok2berfest, will now be available in 16 oz. can 4-packs in addition to draft. For the past three years, this Oktoberfest style beer has only been available on tap in select bars and restaurants.
Master Brewer Phil Markowski created this version of the classic Märzen-style lager to pay tribute to the beer traditionally served at the Munich Oktoberfest. It possesses a smooth, toasty malt profile with the crisp character of a traditional German brew.
Featuring the German Alphorn player from their popular Ok2berfest event, the can is a celebration of all things Bavaria.
"We're extremely excited to add Ok2berfest lager to our already stellar lineup of packaged, German-style brews," said Marketing Manager Collin Kennedy. "The can design does a great job of paying homage to the traditional German Oktoberfest, while adding a 'Road Less Traveled' twist that our consumers have come to expect!"
Ok2berfest is on shelves while supplies last starting in mid-August.
Ok2berfest Celebration is Sept 17th at 18th at Two Roads Brewing
It may be known as Oktoberfest, but the real fun begins this September.
Stratford, CT's Two Roads Brewing Company will be celebrating their fourth annual Ok2berfest on the grounds of their 100+ year old brewery building with two great days of music, beer, games, food and more! Tickets are available here- https://tickets.beerfests.com/event/ok2berfest
Two stages will be set up featuring live traditional German festival music as well as rock music. Enjoy hanging out under one of the three large beer tents plus feast upon the offerings of the many local food trucks. There will be all manner of cuisines from traditional German fest foods to BBQ to cupcakes.
As for the beer, in addition to No Limits Hefeweizen and Ol' Factory Pils, the brewery will pour four special German-style beers for the fest. The first (Ein) will be Two Roads' traditional Ok2berfest Maerzen. The second (Zwei) will be a lighter, more modern Festbier, similar to the ones served currently at Munich's Oktoberfest. Ein and Zwei will be served on both Saturday and Sunday.
This year, Two Roads will also serve two special German-style beers brewed just for the celebration. An Altbier (aka Old Beer) named "Drei" will be poured on Saturday only. It's a top-fermented ale that is fermented at cooler temperatures for a crisp, clean finish. A Schwarzbier, or black lager named "Vier" will be served on Sunday only.
The advance $20 entry fee gets you a beautiful, sturdy German-made traditional glass stein, your first pint and access to all the food, fun and beer. Tickets purchased the day of the event and at the door will be $25.