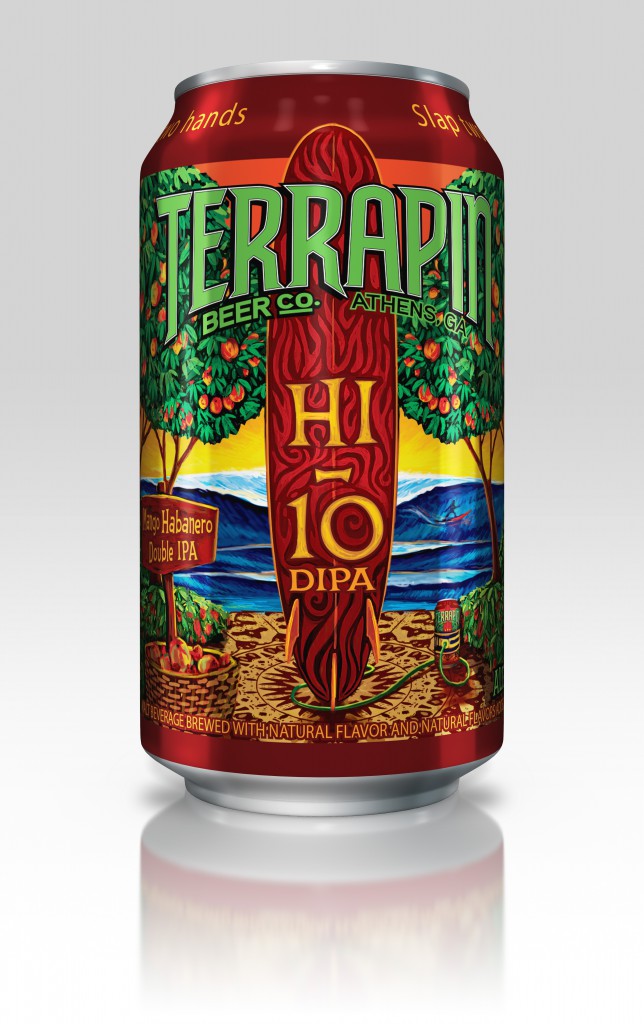 Athens, GA — Since 2008, Terrapin has released 26 different Side Project beers. They've all been extremely unique, fun and creative beers released in 22oz bottles and draft only. But this time we're switching it up, Hi-10 will be released in a six-pack of 12oz cans.
IPAs stay fresher longer in cans, since light has some pretty serious negative effects on hop character. Brewed with the beach in mind, we wanted to make sure we were doing all we could to protect the tropical fresh hop flavors in this Double IPA.
Hi-10 started as a challenge to take our Hi-5 California Style IPA and make it twice as awesome. We took the original HI-5 recipe, bumped up the gravity and added mango juice concentrate and habanero. The beer has a big and juicy upfront hop aroma that gives way to flavors of mango and habanero. The finish is a touch sweet with a spicy pepper kick that sneaks up on you after a couple of sips.
From the Label: Slap two hands
Surf's up with our "Hi-10" Mango Habanero Double IPA. With citra waves for days, and just enough heat to make you sweat, our big and juicy DIPA has plenty of kick to keep you barreled from start to finish. "It takes two to Mango"
Terrapin Beer Co. began as a daydream between founders John Cochran and Spike Buckowski, who brewed and released their first beer, Rye Pale Ale, in 2002. Six months after it's release, the beer made it to Denver for GABF, where John and Spike took home a Gold Medal for Rye Pale Ale in the American Pale Ale Category.
Inspired by the creative culture of Athens, Terrapin began to add to its beer lineup, with unique beers like W-n-B, Hopsecutioner, and many others. Today, Rye Pale Ale is accompanied by six other year-round beers, four seasonal sessions, and at least a dozen special projects, side projects and collaborations.
Whether you're joining us for a brewery tour at our tasting room, drinking a Hopsecutioner at your favorite watering hole, sipping some Hi-5 on your back porch, or enjoying a RecreationAle after a long day on the trail, we hope you appreciate the dedication we've put in for 14 years (and counting!)