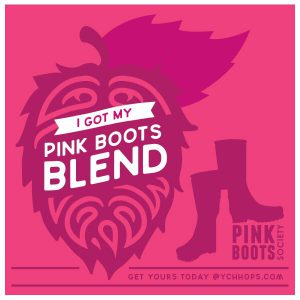 YAKIMA, Wash. — An international nonprofit organization supporting women in the brewing profession known as the Pink Boots Society and YCH HOPS, a leading global hop supplier, have announced the release of a proprietary hop blend to celebrate women in the beer and brewing industry. This exciting new hop blend called Pink Boots Blend will be available to commercial brewers and a portion of the proceeds will benefit Pink Boots Society scholarship funds.
The idea to collaborate on a hop pellet blend stemmed from a casual conversation between YCH HOPS CEO Mike Goettl and Regional Sales Manager Kelly Lohrmeyer while walking through the hop fields during the annual Hop & Brew School event. They both spoke of their shared passion to encourage and support female brewing professionals. What started as a casual conversation quickly led to a partnership with Pink Boots Society (PBS).
"Organizations like Pink Boots Society have been close to my heart being a woman in the beer industry," said Kelly Lohrmeyer, YCH HOPS Regional Sales Manager for the Pacific. "I've grown close with President Laura Ulrich since moving to California, so when Mike suggested we look at working with PBS on a blend, I knew that Laura's team could help make this a reality. I am very excited to see where this blend goes in the beer community and in accelerating collaboration across the globe with women and beer!"
During the 2017 Great American Beer Festival in Denver, YCH HOPS staff and PBS members met to rub, smell and experience a selection of hop samples for the upcoming blend. This year's blend includes Palisade, Simcoe, Mosaic, Citra and Loral.
"During the meeting and hop rub at the Great American Beer Festival, one goal that stood out amongst all of us was that we wanted a multi-purpose hop," said Laura Ulrich, President of Pink Boots Society. "Ideally our choice of blend could be used for bittering, aroma, and during dry-hop. A brewer can use this hop through the brew, or just in a single charge. The blend character itself is fruity but not overly tropical, with more dominant citrus and herbal notes. The small addition of Simcoe gives the blend just a hint of old school, while others like Loral, Citra, and Palisade will help drive the fruit flavors forward. And really, who doesn't love Mosaic, so we added at touch of her too."
The hope is that a new blend will be chosen each year during the harvest season by members of Pink Boots Society and processed into traditional T90 pellets at YCH HOPS production facilities. The hop blend will be released to commercial brewers prior to International Women's Day on March 8th and are encouraged to create their own celebratory brews. The blend will be sold by YCH HOPS with limited availability, and a portion of the proceeds will be donated to the Pink Boots Society Scholarship funds.
Pink Boots Society Scholarship funds help to allow women in the industry attend educational seminars, classes, certifications and tours. Using the scholarship program, PBS aims to empower women beer professionals to advance their careers through education. Scholarship opportunities are open to women anywhere in the world who are actively employed in the beer industry.
The annual Pink Boots Blend is YCH HOPS' latest commitment to embracing and furthering diversity in the industry. They are proud to support women from across many facets and functions of the brewing industry. The YCH HOPS family also includes a female hop grower/owner and three women that sit in senior leadership positions, including two in the C-suite.
About Yakima Chief – Hopunion
Yakima Chief – Hopunion is a 100% grower-owned, global hop supplier focused on providing premium quality hops and uncompromising service. The team is driven by a profound appreciation for the earth's natural resources and a heartfelt respect for the communities and customers they serve. This creates a culture of continuous improvement centered on sustainably produced, innovative hop products for beer. From fresh Green Hops, to whole-leaf hops, Cryo Hops, hop pellets and Resinate® CO2 hop extract derived products, Yakima Chief – Hopunion is uniquely positioned, and passionate about connecting the world's finest brewers with family-run hop farms through YCH HOPS.
About Pink Boots Society 
The Pink Boots Society was created to assist, inspire and encourage women beer industry professionals to advance their careers through education. We are the female movers and shakers in the beer industry. We get the beer brewed and fermented with the highest possible quality. We also own breweries, package the beer, design beers, serve beers, write about beer, and cover just about any aspect of beer, and we are all women. Most importantly, we teach each other what we know through our own seminar programs, and we help each other advance our beer careers by raising money for educational scholarships.