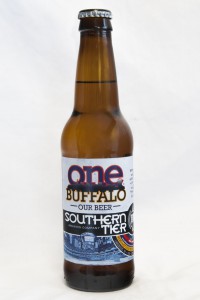 Lakewood, NY – Today, Southern Tier Brewing Company (STBC) announced that One Buffalo beer is available in 12-pack boxes.
"One Buffalo is an all-season beer, for both the casual beer drinker and craft aficionado – especially Western New Yorkers and sports fans," said Phin DeMink, founder of STBC. "We continue to see a growing demand for One Buffalo, and so the timing is perfect for launching the 12-pack during hockey season."
One Buffalo is the result of an unprecedented partnership between a local brewery and a city's professional sports base, connecting Southern Tier Brewing Company (STBC) and Pegula Sports & Entertainment (PSE). The collaboration between STBC and PSE was first announced in August 2015, in anticipation of the upcoming professional football season.
"It's our beer," said Brent Rossi, EVP of marketing and strategy, PSE. "One Buffalo captures our community's spirit and strengthens the unity of our city."
One Buffalo is available in six-packs, 12-packs and kegs throughout Western New York. It can be purchased at local beverage distributors, bar/restaurants, in Ralph Wilson Stadium and First Niagara Center – at the Southern Tier Brewing Company bar.
The beer is an American Blond Ale comprised of North American hops, malted barley, oats and wheat. It is described as a smooth, refreshing craft beer, brewed at 4.8% alcohol/volume.
The artwork on the packaging was painted by Buffalo-based artist Matthew SaGurney. Each panel on the 12-pack has one of four Buffalo-centric designs.
About Southern Tier Brewing Company:
Southern Tier Brewing Company is committed to providing delicious, accessible and unique products. In doing so, we aim to change the way people drink beer. Our mission is to provide our customers with consistently fresh, clean, American craft ales and lagers that stand on their own merit.
About Peluga Sports and Entertainment:
Pegula Sports and Entertainment is a management company that streamlines key business areas across all Pegula family owned sports and entertainment properties, including the Buffalo Bills, Buffalo Sabres, Buffalo Bandits, Rochester Americans, and Black River Entertainment. On October 12, 2014, PSE President and CEO Kim Pegula announced the launch of the One Buffalo initiative. The campaign serves as a representation of teamwork, and a deeper connection between Buffalo sports teams, fans and the community.