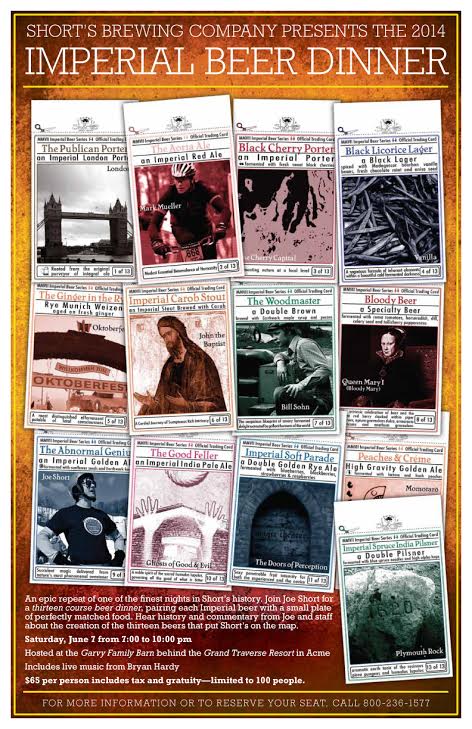 Kalamazoo, MI — During the fall of 2006, Joe began work on Short's most ambitious project up until that point: The Imperial Beer Seriers. The idea was to make a series of imperial strength beers and to provide a modern spin on the creative use of nontraditional and unusual ingredients used in beer throughout human history. Although Short's had previously bottled only minimally, this project required all of the 13 beers to be hand filled into 750ML bottles. Each came with its own trading card and story.
This is the re-creation of the Imperial Series Short's Beer Dinner and will be a rare opportunity to experience a monumental beer and food pairing event in-person with Joe Short and some of the Short's staff.
This special dinner event provides 13 different food and beer pairings, consisting of 4 oz. pours and small plates. Due to limited space, this event is being limited to 100 Guests (sellout is expected). To book your reservation, call 800-236-1577.
Dinner Menu:
Pairing #1: Short's "The Abnormal Genius" imperial golden ale fermented wth sunflower seeds and Earthwork honey paired with organic peanut butter on toasted spent grain wheat bread with apple shavings.
~Pairing #2: Short's "Aorta Ale" imperial red ale with subtle aromas of candy, brown sugar and toasted malt paired with mini jerk turkey burgers with red pepper and aioli.
~Pairing #3: Short's "Black Licorice Lager" high-gravity black lager spiced with Madagascar bourbon vanilla beans, fresh chocolate mint leaves and anise seeds paired with chocoloate-covered orange segments.
~Pairing #4: Short's "Peaches & Creme" high-gravity golden ale brewed with lactose and fresh peaches paired with prosciutto-wrapped melon.
~Pairing #5: Short's "Ginger in the Rye" rye Munich Weizen aged on fresh ginger paired with sesame-crusted seared tuna served on a flat cracker.
~Pairing #6: Short's "Black Cherry Porter" imperial porter fermented with fresh, sweet black cherries paired with baguettes made wth spent dark grains, toasted, and topped with cherry butter.
~Pairing #7: Short's "Soft Parade" double golden rye ale fermented with blueberries, blackberries, strawberries and raspberries paired with lemon rind Stilton cheese on fresh cornbread.
~Pairing #8: Short's "Publican Porter" imperial London ale with black, opaque color that leaves a dark brown lace paired with cold-shaved beef with horseradish cheddar and vanilla onions on toast points.
~Pairing #9: Short's "Good Feller" imperial India pale ale with notable caramel and toast similar to a red India pale ale paired with caramel corn clusters with chocolate and nuts.
~Pairing #10: Short's "Bloody Beer" fermented with Roma tomatoes, tellicherry peppercorns, celery seed, fresh horseradish and dill paired with herbed oven-roasted tomatoes, goat cheese and salami served on toasted baguettes.
~Pairing #11: Short's "Imperial Spruce India Pilsner" brewed with Northern Michigan blue spruce needles and healthy doses of high alpha hops paired with smoked trout with creme fraiche.
~Pairing #12: Short's "Imperial Carob Stout" brewed with roasted malt, dark specialty grains and carob paired with warmed chocolate oatmeal raisin cookies topped with raspberry coulis.
~Pairing #13: Short's "The Woodmaster" double brown ale fermented with Earthwork maple syrup and toasted pecans paired with homemade maple pecan ice cream.