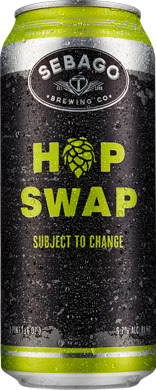 Portland, ME  — Each year since 2012, Sebago Brewing Company has brewed Hop Swap, an American-style IPA, with a new hop profile in order to introduce fans to the wonderful flavors and aromas that can come from hops. The profile for Hop Swap 2017 (ABV 6.7%, IBU 88), which ships this week, features Citra, Cashmere, Comet and Lemondrop hops. You can expect bold citrus and ripe melon aromas, accompanied by passion fruit and subtle mint.
Three of the featured hops, Lemondrop, Cashmere and Comet, have recently made appearances in Sebago's limited edition Single Hop Pale Ale Series. Comet is a bittering hop used for its subtle and unique "wild American" aroma. Cashmere is a dual-purpose hop with a smooth bitterness, herbal aroma and flavors of citrus and melon. Lemondrop is a new experimental aroma hop that also contributes to the bold citrus scent and crisp body of this year's edition. Joining these three are well-loved Citra aroma hops, known for their tropical fruit characteristics.
Hop Swap is best enjoyed fresh, so a limited amount of the beer is produced to highlight these unique features. Hop Swap can also be enjoyed on draft at Sebago Brewing Company's four brewpubs in Portland, Kennebunk, Gorham and Scarborough as well as at various craft beer bars and restaurants throughout New England. The current batch will also be available in 4-pack 16-ounce cans at select stores and in 1/6 BBL kegs by special order. The 2017 hop profile will also be used for a fall 2017 release.