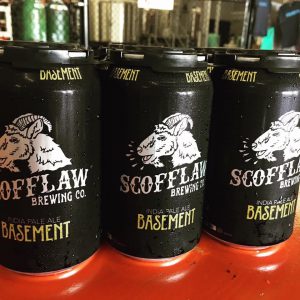 ATLANTA – Following an expansion that has tripled capacity, Scofflaw Brewing Company has returned to canning its beers while meeting ever-increasing demand from taprooms, bars and restaurants in Georgia for keg beer.
"The demand for our beer has just kept increasing and that's a very pleasant surprise," said Matt Shirah, co-founder of Scofflaw. "When we first started, we had no idea that we would need this kind of production capacity before the end of our first year. Now that we finally have the tank expansion in place, it's enabling us to meet the demand for kegs and at the same time return to distributing cans."
Using the in-house Wild Goose 250 canning line, the initial July release of cans through United Distributors has focused on Basement IPA, the juicy and approachable hazy IPA featuring Citra hops. It's now available in new all-black cans. The brewery also plans to resume canning Double Jeopardy, an imperial IPA featuring Simcoe hops, and limited releases of Hooligan, another of Brewmaster Travis Herman's range of IPAs, this one featuring Galaxy hops.
Shirah and Herman expected to have three 90-barrel fermentation tanks and one 90-barrel bright tank delivered in April to the brewery located in the Bolton neighborhood of Westside Atlanta. When delivery was delayed, three new 60-barrel fermentation tanks and one 60-barrel bright tank were quickly acquired to keep up with demand. The 90-barrel tanks finally arrived and were operational in June. The additions give Scofflaw an annual brewing capacity of 16,500 barrels.
The new tanks create an opportunity to brew more R&D beers in the company's original 15-barrel and 30-barrel tanks as well as increase production of its barrel-aged Absentium line of stouts. The R&D beers include Double Basement as well as a new beer made with honey. The wider selection of beers are being brewed in anticipation of the changes in Georgia law starting Sept. 1 that will enable brewers to sell beer by the pint to consumers. Breweries will also be able to sell up to a case of packaged beer for carryout.
Scofflaw will serve beers from its inaugural year during the One Year Anniversary Party to be held Sept. 16.
About Scofflaw Brewing Co. 
Co-founded by Matt Shirah and Brewmaster Travis Herman, who developed beers on a one-barrel system in the basement of the home of Shirah's mother-in-law, Scofflaw opened in August of 2016. It has been named by BeerAdvocate, Paste Magazine and USA Today as one of the best new breweries in America. Follow Scofflaw on Facebook, Instagram and Twitter.