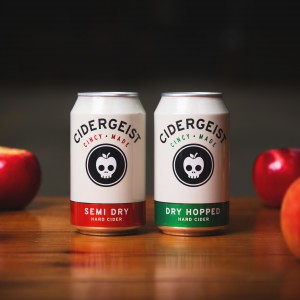 CINCINNATI, OH​ – Rhinegeist Brewery is proud to announce a new brand and product offering with the launch of Cidergeist Hard Ciders. Why cider? We consider ourselves adventurers, explorers of the new, and Cidergeist allows us to play in a lighter and drier zone than beer is able to achieve, introducing a flavor profile more akin to white wine and refreshing in a uniquely fruity way. There is nothing more refreshing than biting into a freshly picked, crisp apple and our ciders are created to deliver that experience with the crack of a can.
Fermented with juice from the Pacific Northwest, our Cidergeist Hard Ciders sparkle to deliver a blend of acidity and apple-ness with bountiful aromatics that strike the right balance of refreshingly dry with just a shy suggestion of sweetness.
Cidergeist marks the brewery's first batch release in the Cider category, and will be available in both cans and on draft throughout existing Rhinegeist markets. Look for cans to hit shelves the week of October 5th, and on draft in accounts the week of October 12th.