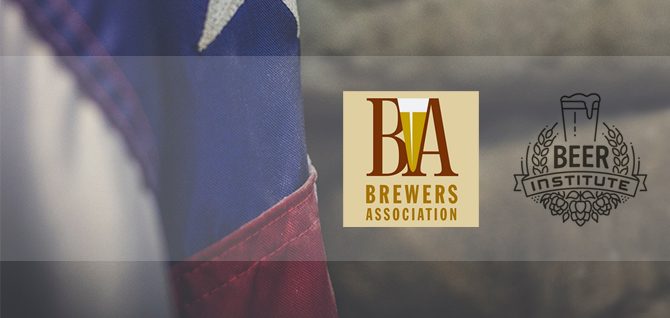 For the first time ever, beer excise tax reductions have been included in a comprehensive federal tax reform proposal.
On Tuesday night, U.S. Senate Finance Committee chairman Orrin Hatch (R-Utah) released a "Chairman's Mark" to the Senate GOP's version of the Tax Cuts and Jobs Act.
The document, which outlines a number of suggested changes to the United States tax code, now includes reductions in the federal excise taxes for all brewers and importers under a "New Proposals" section that features 14 pages of alcohol-related reforms.
Included in that section is Senate Bill 236, also known as the Craft Beverage Modernization and Tax Reform Act (CBMTRA). The bill, which has support from 55 U.S. senators, would cut the federal excise tax to $3.50 per barrel (currently $7) on the first 60,000 barrels for domestic brewers producing fewer than 2 million barrels annually. Additionally, the legislation would reduce the federal excise tax to $16 per barrel on the first 6 million barrels for all other brewers and beer importers while maintaining the $18 per barrel excise tax for brewers producing more than 6 million barrels.
"Getting in this bill is so monumental in many ways," Beer Institute president and CEO Jim McGreevy told Brewbound. "Now the goal is to just make sure people know why it's in there and why it should stay in there."
The legislation has a long way to go before backers can claim victory, however. Still in need of approval in the finance committee, it would then need to pass a vote in the Senate and survive a conference committee with the House.
Nevertheless, McGreevy told Brewbound that he expects an accelerated timeline for the legislation, with the Senate likely to pass the bill out of committee by Thursday. He expects the Tax Cuts and Jobs Act to be discussed on the Senate floor before members adjourn for Thanksgiving break.
"This is all moving very quickly," he said.
"Many twists and turns for sure to come," added Brewers Association CEO Bob Pease. "I wouldn't want to handicap our chances, but we're confident that we're in good hands with our Senate champions."
If the legislation sticks, brewers would enjoy tax cuts through 2019. As currently written, the tax breaks would expire on December 31, 2019.
Pease told Brewbound that the 2-year sunset provision was added as a "compromise."
"It's better to be in the bill than out of the bill," he said. "And if the bill were to become law, we would work to make our provisions permanent."
McGreevy added: "Two years allows us to prove to the House and Senate that this is good policy and has been implemented well and has had the results that we think that it will have and then we'll go back and tell them that."
Both McGreevy and Pease credited Senators Rob Portman (R-Ohio), Roy Blunt (R-Missouri) and Ron Wyden [D-Oregon] with going "to bat" for CBMTRA in the last few days.
"This was important to them, and we know it's important to Sen. [Mitch] McConnell as well," McGreevy said.
Last month, the modernization act reached a milestone with a majority of U.S. senators pledging their support for the legislation. Currently, the legislation has bipartisan support from 55 senators, after Senators Lindsey Graham (R-South Carolina), Pat Toomey (R-Pennsylvania) and Dean Heller (R-Nevada) recently pledged their support.
The House version of the act, H.R. 747, has bipartisan support from 295 members of the U.S. House of Representatives.
As Brewbound has previously detailed, efforts to pass CBMTRA in 2015 and 2016 failed despite bipartisan congressional support. However, McGreevy said the legislation has come a long way in that time.
"It shows what happens when folks work together to get something everyone wants," he said. "I think that's a very positive thing for beer."
McGreevy and Pease added that lobbying efforts would continue. They'll be receiving support from other beverage lobbying groups, including the Distilled Spirits Council of the United States (DISCUS), American Craft Spirits Association, Wine America and the Wine Institute. The legislation includes excise tax cuts for wine and spirits producers, as well.
"Everyone in the coalition has got people working on this today and working on it rest of the week and into next week," McGreevy said.