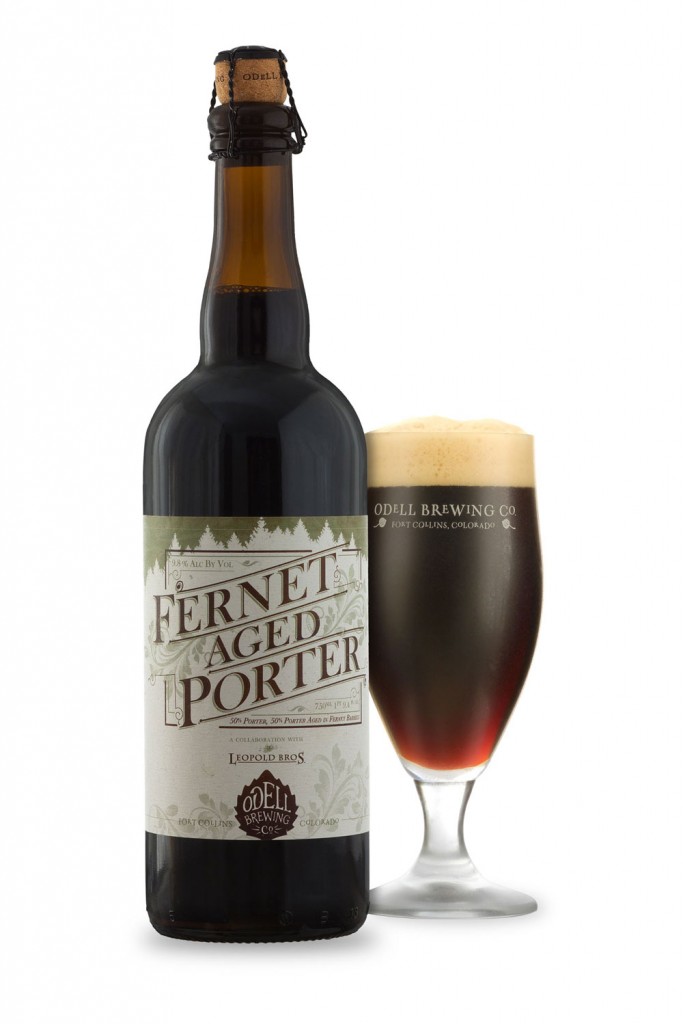 Fort Collins, CO. — In late September, Odell Brewing will release Fernet Aged Porter, a robust imperial porter aged in emptied Fernet barrels from Colorado distiller, Leopold Bros.
"We have always been huge fans of Leopold Bros.," said Brent Cordle pilot brew and barrel aging manager at Odell Brewing. "We've experimented with a variety of barrels, but Leopold's Fernet was by far the most unique oak we've had the pleasure of working with."
Fernet is a dark minty liqueur made with herbs & spices and aged in oak barrels. Leopold Bros. has crafted their own unique recipe which includes lavender, honeysuckle, ginger root, bitter aloe, dandelion root, rose petals, chamomile, and peppermint.
"Our Fernet is the most bitter type of Amaro (Italian word for bitter) that is prepared by steeping various botanicals, with a large proportion of bitter roots, in spirit," said distiller Todd Leopold, "so far as we are aware, it is the first of its kind produced in America since well before Prohibition."
Odell Brewing began collecting the emptied Fernet barrels, as they became available over the past year, and filled them with a rich porter. The herb-soaked oak has a remarkable effect on the beer. With an 9.8% ABV, the roasty chocolate malt character is infused with hints of mint and licorice creating a decadent aroma and flavor.
Odell Brewing and Leopold Bros. will celebrate their partnership with a special release party on September 26th at 7:00 p.m. at Freshcraft in Denver, and in the brewery's Tap Room on September 28th and 29th. Fernet Aged Porter will be available in limited quantities throughout the brewery's ten state distribution footprint.
About Odell Brewing:
Founded in 1989, Odell Brewing was started by Doug Odell, his wife Wynne, and his sister Corkie. Twenty-four years later, the culture of family and collaboration still thrives fostering a brewery full of beer-centric people. It is this passion for beer that inspires Odell Brewing to create quality, hand-crafted, innovative brews. As a regional craft brewery, Odell Brewing is committed to serving the communities in which it distributes by minimizing its environmental impact, sourcing local raw materials, and through its charitable giving program known as Odell Outreach. Odell Brewing was named a "Best Company to Work For" in 2013 by ColoradoBiz Magazine and is an award winning brewery, nationally and internationally: 2012 Brewers Association Recognition Award, 2011 Great American Beer Festival┬« – gold medal for Friek, 2008 World Beer Cup┬« — gold for IPA. 2007 Great American Beer Festival┬« — gold medal for IPA.
About Leopold Bros.
Leopold Bros. is a family owned and operated small batch distillery located in Denver, Colorado. Founded in 1999.Todd Leopold got his start in distilling after he received his Diploma in Malting and Brewing from the Siebel Institute of Technology in Chicago in 1996. After graduation, he trained at the Doemens School in Munich, focusing on the production of lager beers. He then apprenticed at several breweries and distilleries throughout Germany. Scott Leopold began his career in manufacturing after receiving a B.A. in Economics and a B.S. in Industrial Engineering from Northwestern University and a Masters in Environmental Engineering from Stanford University. He spent the early part of his career engineering environmentally sustainable manufacturing processes for Fortune 500 companies, as well as designing waste water treatment systems for both industry and municipalities. Together, the Leopold Brothers designed and developed a unique distillery in which environmental sustainability is a daily practice, and the art and science of fermentation and distillation is practiced at the highest possible level.