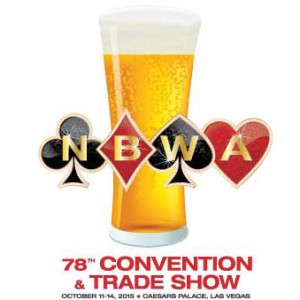 ALEXANDRIA, VA – The National Beer Wholesalers Association (NBWA) will hold its 78th Annual Convention and Trade Show October 11 – 14, 2015, at Caesars Palace in Las Vegas, Nevada.
During the general session on Monday, October 12, Vice President of Atlas Sales, Inc. Bud Dunn will moderate a panel including:
Jay Ducote, Food Network Star Finalist and Founder, Bite and Booze
Daniel "D.H." Harrison, Co-Owner and General Manager, Country Boy Brewing
Ryan Lake, Vice President, First Beverage Group
Kurt Strickmaker, President and Better Beer Guy, BountyBev
NBWA President and CEO Craig Purser said, "'It's not your father's beer business anymore' is a familiar expression in the beer industry, as a new generation comes into management and leadership positions. When it comes to the independent beer distribution industry, many of those decisions are being made by leaders under the age of 40."
"What does that mean for distributors as well as brewer partners and retailers? And what is the impact for millennial consumers? And what effect does global consolidation have on the American beer distribution industry? This panel of next generation leaders will share their views on what's happening in the beer industry today and their predictions for the future," Purser said.
Registration is available online at www.nbwa.org/convention. Hotel accommodations at Caesars Palace can be made online or by calling (866) 227-5944. Reference the National Beer Wholesalers Association or NBWA to receive the group rates of $205+taxes per night in the Forum Tower or $213+taxes per night in the Augustus, Palace and Octavius Towers. Once the block is sold, room rates cannot be guaranteed.
For more details, please visit the convention page of NBWA's website at www.nbwa.org/convention. Follow #NBWAVEGAS on social media for additional updates.
About:
The National Beer Wholesalers Association (NBWA) represents the interests of America's 3,300 licensed, independent beer distributor operations in every state, congressional district and media market across the country. Beer distributors are committed to ensuring alcohol is provided safely and responsibly to consumers of legal drinking age through the three-tier, state-based system of alcohol regulation and distribution. To learn more about America's beer distributors, visit www.AmericasBeerDistributors.com. For additional updates from NBWA, follow @NBWABeer on Twitter, watch NBWA videos on www.youtube.com/NBWABeer and visit www.facebook.com/NBWABeer.