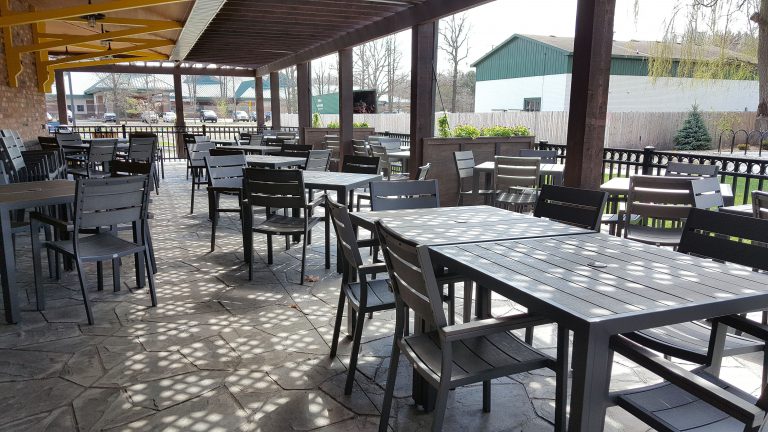 Midland, Mich. – Midland Brewing Company (MBC) is set to open a new Beer Garden outdoor patio and event space on Friday, April 28. The area, located behind their brewery and restaurant at 5011 N. Saginaw Road in Midland, will feature patio seating and a large area for games and other activities.
The beer garden will be combine MBC's world-class food and beer experience with a flexible outdoor venue suitable for additional seating, games, private parties, and more. The area will include a 10' smoker for barbecue, six outdoor beer taps, and a variety of leagues and games. With the additional space, the MBC's capacity will increase from 100 to 185 customers. Food and drinks will also be served in the lawn area as well.
"We are excited to provide the people of the Midland area a fun new way to enjoy our beers and food," said restaurant manager George Reynolds. "We look forward to using the beer garden area to host a variety of events from beer-infused charitable races, to live music, holiday celebrations, and more."
MBC will be using Facebook to get community ideas and feedback on the games and entertainment they'd like to see featured in the beer garden. Customers can vote for their preferred games on MBC's Facebook page at https://www.facebook.com/MidlandBrewing/.
Midland Brewing Company was originally founded in 1935, just after the end of Prohibition, and operated for only a few years before closing its doors. It was reborn in 2010, 75 years after its founding, by a group of local entrepreneurs and brewers with a passion for both craft beer and Midland's early history. The company maintains a brewery and restaurant on Saginaw Road in Midland, just off the Pere Marquette Rail Trail; its beers can be found in bars, restaurants, and retail locations throughout Michigan. Learn more at http://www.midlandbrewing.com.