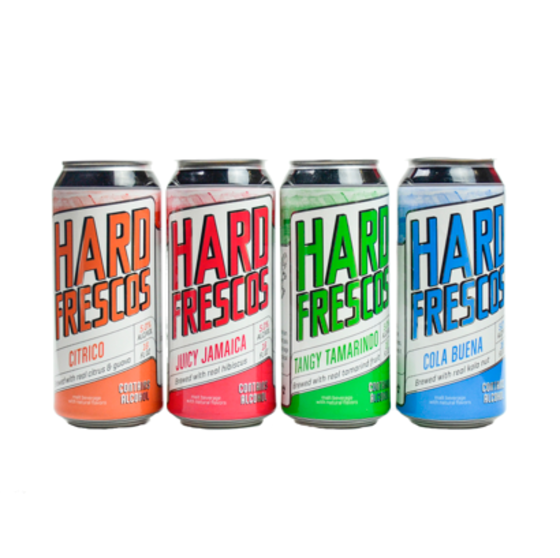 SAN FRANCISCO, Calif. — Hard Frescos, a new line of aguas frescas with a kick — 5% ABV — is now available, just in time for summer. Hard Frescos is naturally fermented in small batches using real fruit, lightly sweetened with cane sugar, for a refreshing, clean finish.
Hard Frescos is available in 16-ounce cans or 4-packs of 12-ounce bottles in retailers throughout the Phoenix and Scottsdale areas of Arizona, San Francisco, Southern California, and Northern California areas, with distribution expanding every day.
Co-founders Peter Stearns and Mauro Gomez met working in the food industry long before the launch of Hard Frescos. Stearns has spent his life traveling back and forth to Mexico City, visiting family, working in the food industry, and being exposed to, and captivated by Mexican culture. Together, friends and business partners Stearns and Gomez spent several years developing and perfecting the recipes for the four flavors of Hard Frescos: Citrico®, Cola Buena®, Juicy Jamaica®, and Tangy Tamarindo®.
During their frequent travel to Mexico, Stearns and Gomez were continuously struck and inspired by the vibrancy in Mexico's street food culture. The pair set out to create an authentic expression of this culture, using responsibly sourced ingredients — many from Mexico — and refusing any artificial colors or alternatives.
A food scientist, Stearns spent the earlier part of his career creating flavors for many global brands. Building on his experience, Stearns was adamant about creating an expression that is authentic to Latin-American culture. He spent three years performing a series of fermentation trials, perfecting the final blends at the University of California at Davis in their Anheuser-Busch pilot brewery.
Hard Frescos is available in four varieties, each boasting a balanced taste profile of simple, recognizable ingredients, and tart and sweet flavors. Premium ingredients are responsibly sourced and artificial alternatives are avoided, allowing the fresh, authentic flavors and ingredients to stand out. Hard Frescos is gluten-free and does not contain preservatives, sulfites, artificial colors or sweeteners.
Citrico: Citrus and guava fruits, full fruit flavor punch
Cola Buena: Kola seed, spicy, cinnamon notes
Juicy Jamaica: Real hibiscus flowers, light, refreshing, like hibiscus tea
Tangy Tamarindo: Real Mexican tamarind fruit, sweet and tart, apple notes
Quick Info:
35% Less sugar than sodas – lightly sweet
25% Real fruit
No fake stuff
Natural, premium-brewed alcoholic beverage, made with high-quality ingredients
Brewed just like cider or beer with American Ale Yeast in a traditional batch fermentation process
Sweet and tart flavors with a balanced taste profile
Responsibly sourced ingredients
No artificial colors
Gluten-free
No preservatives
Real cane sugar. Real fruit. Real juice.
About Hard Frescos
Hard Frescos' corporate social responsibility includes supporting grassroots and community-based organizations that focus on health and wellness as well as causes in both the U.S. and Mexico that focus on preservation of habitat for animals and environmental restoration. More specifically, the team has worked with Alta-med in the greater Southern California area and is working with an association in Mexico that works in the Xochimilco area helping to preserve the region and protect the native animals which inhabit it —one of whom is the Axolotl.
Hard Frescos is owned by Jugos Beverage Company, LLC. Jugos Beverage was founded in 2014, with offices in Mexico City, Los Angeles, Santa Barbara and San Francisco.
For more information on Hard Frescos, including distribution information, please visit www.hardfrescos.com, and be sure to follow @HardFrescos on Twitter and Instagram.