Ipswich, MA — After its wildly successful limited draft release in 2016, Ipswich Cranberry Beret is back and now available in four packs of 16 ounce cans. The cans are the first new product to hit shelves from the brewery's newly installed canning line. The canning line was made in Germany by Leibinger and has a rotary filler with 18 heads that can fill up to 100 cans a minute. The line has the versatility to switch between twelve and sixteen ounce formats.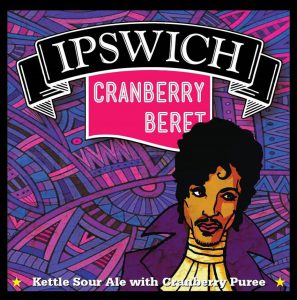 "Releasing the Cranberry Beret in a 16 ounce can is a perfect way to launch our new canning line, and highlight one of the many diverse styles we're been brewing here at the brewery" said Brewery Owner & President, Rob Martin. The beer is brewed using fresh cranberry puree and kettle soured with a special lactobacillus blend leaving your pallet with bright, tart, citrus notes. At 5% ABV, it's a refreshing beer to enjoy as we cruise our way into the summer months.  Quantities are limited and will be available in cans and on draft in most states that distribute Ipswich Ale beers.
Also debuting for the summer season is, Ipswich Sunset Mix, our new 12 ounce bottled variety pack. The new package has a little something for everyone with 3 Summer Ale's, 3 Blueberry Shandy's, 3 Riverbend Pils, and 3 Route 101 IPA's.
Sunset Mix Beer Details: 
Summer Ale: No fruits. No spices. Just an ideal blend of pale malt, Cascade, and Mosaic hops. A perfect addition to a hot summer's day. 4.9% ABV
Route 101 IPA: Named for the 1,550 mile U.S. Route 101 that spans the Pacific coastline, this hop-forward, west coast style IPA packs a citrus-like punch with an understated malt backbone that you're sure to enjoy. 6% ABV
Blueberry Shandy: Lemon and blueberry flavors brightly shine through this zesty, sweet offering. Let us change your mind about how a shandy can taste. Never filtered. Never pasteurized. Always Ipswich. 5.4% ABV
Riverbend Pilsner: We take proper German malt, traditional Czech Saaz hops and add a touch of Lemondrop hops for a clean, pale lager with a bright hop aroma. 4.6% ABV
Ipswich Sunset Mix is available in all states that distribute Ipswich Ale beers.
###
Residents of Boston's North Shore were first introduced to Ipswich Ale Brewery during the spring of 1991. With over 26 years of history behind it, Ipswich Ale has been in existence longer than nearly every other craft brewer in New England. Since that time, the Ipswich Ale portfolio of brands have developed into a tradition shared by not only the residents of eastern MA, but across New England. In January of 2016, Ipswich Ale Brewery opened an onsite restaurant, the Ipswich Ale Brewer's Table, which features 15 tap lines of Ipswich beers and an eclectic lunch and dinner menu. Learn more at www.ipswichalebrewery.com