Editor's note: This article appeared in the March-April issue of BevNET Magazine.
The warhorses of the craft beer industry are getting tired. Although craft is still charging forward, its surge has slowed due to declines by some of the biggest beer makers.
"Craft is growing this year, it's just not making up the losses that keep the craft growth rate at which it was before," Brewers Association chief economist Bart Watson told BevNET.
Last year, craft's decade of double-digit growth finally ended. Chicago-based market research firm IRI Worldwide reported that craft beer sales in U.S. supermarkets and convenience stores grew 6.9 percent to more than $2.28 billion. Still, that was well below the increases that the category had experienced since 2005.
End of the year numbers from the Beer Institute also showed that craft beer volumes increased by about 7 percent, which the industry trade organization called a "significant deceleration in that segment's growth compared to recent years."
The losses came from the top: 2016 was a year in which many trusted brands struggled. A Nielsen CGA on-premise measurement report recently showed that sales for "mature" breweries had declined 1.9 percent since January 2015. However, maturing and "newbie" breweries had grown sales 6.8 percent and 11.8 percent, respectively, showing the emergence of a mid-tier chase pack and smaller, hyper-local brands.
"It's getting crowded out there," Watson said. "We've hit a point where brands are coming in faster than the drinkers. There are a set number of brands that can grow. You put more brands in the marketplace and you get more brands that are shrinking. There are only so many shelf placements."
Mike Mazzoni, a beer industry veteran who has studied the lifecycle of brands, said legacy craft breweries are struggling for several reasons, among them, an inability to reach choice-craving millennial consumers whose drinking tastes are more promiscuous than previous generations. And the ubiquitous nature of brands such as Boston Beer Co. and Sierra Nevada won't make it easy.
"The fact that they're national brands gives them cache that's offensive to the millennial," Mazzoni said. "They want something that's local. That's one of the reasons that they've fallen off."
This is the new reality in an increasingly crowded and cramped industry. There are more than 5,000 U.S. breweries fighting for shelf space and tap handles, not only amongst themselves for "share of stomach" but also with wine and spirits.
"You have 10,000 brands competing for the same share of stomach that 800 brands were competing for," Mazzoni said. "And the styles that they produce are not conducive to big volume gains."
Possibly no craft brewery is under more scrutiny than the venerable category creator, Boston Beer Company. The publicly traded makers of Samuel Adams, and the second-largest craft beer maker (behind D.G. Yuengling & Sons Inc.), according to the Brewers Association, had a rough 2016.
Last year, sales of Boston Beer declined 2.2 percent in grocery and convenience stores, according to IRI Worldwide. The company finished the year with $774.5 million in sales in those outlets, but several of its brands suffered: Samuel Adams' seasonal beers dropped 15.6 percent; flagship beer, Boston Lager, declined 11.3 percent; the company's variety pack was down 5.5 percent. The troubles weren't limited to beer; Angry Orchard hard cider sales declined 7.3 percent.
Boston Beer founder Jim Koch declined an opportunity to discuss his company's strategy for turning around sales. However, the company has already tipped its hand: the answers for Boston Beer heading into 2017 appear to be a cosmetic facelift for its packaging as well as reformulated recipe for one of its struggling brands, Samuel Adams Rebel IPA, which saw sales decline 15.5 percent and volume sales drop 16.6 percent last year, according to IRI.
The new recipe for Rebel IPA will feature Mosaic hops and two proprietary hops (HBC 566 and HBC 682) and a new grain bill without caramel malt.
In a previous email to BevNET's sister publication, Brewbound, Koch said reworking Rebel IPA was about getting the taste right.
It remains to be seen whether those changes will do more to appease Boston Beer's shareholders or find the connection it's lacked in recent years with craft drinkers.
Boston Beer wasn't the only craft pioneer struggling to reach consumers. Sierra Nevada, the No. 3 craft beer producer, saw its sales drop 3 percent. Earlier in the year, Sierra Nevada's Brian Grossman told a group of distributors to expect a sales decline of more than 4 percent.
The declines were pronounced in supermarkets and convenience stores for Sierra Nevada's flagship Pale Ale. Sales of that No. 2 craft brand (behind Blue Moon Belgian White), were down 3.4 percent to $124.4 million, according to IRI. The company's other top brand, the once red-hot Torpedo Extra IPA, saw a 2.5 percent decrease in sales to $53.9 million. To breathe new life into those labels, Sierra Nevada announced a pair of line extensions — Sidecar Orange Pale Ale and Tropical Torpedo IPA — a strategy of doubling down on its core products with a twist of innovation.
However, the company has already started the year behind the eight ball. In January, the company announced a 36-state voluntary recall of several of its year-round and seasonal beers bottled at the company's Mills River, North Carolina, production brewery. The company has yet to say the total cost of the recall or how much beer was affected.
The news wasn't all sour for craft beer's pioneers. New Belgium sales increased 1.7 percent in MULC, and the Fort Collins, Colorado-headquartered brewery finished the year up 4.8 percent on the year, shipping 958,000 barrels of beer.
New Belgium co-founder Kim Jordan credited a strategy of innovating with beers such as Citradelic Tangerine IPA, which she said was the No. 1 craft launch of last year, and the opening of new cities and states for distribution with lifting the company last year after it suffered its first decline in 2015. Some of those issues have been attributed to maxing out the capacity of the company's Colorado production facility while attempting to get its 500,000-barrel Asheville, North Carolina, brewery online.
"We're pretty psyched that we were up almost 5 percent because the law of large numbers makes that more difficult," Jordan said. "The intense competition increased in the last couple of years also makes that more difficult. We feel like that's a big win to be up that far."
Continuing the innovation theme, New Belgium has introduced new beers under the Voodoo Ranger banner after sales of its Ranger IPA declined 17 percent in 2016. So the company moved its focus to several new products, launching a full-scale campaign around Voodoo Ranger IPA and Voodoo Ranger Double IPA. Those beers, featuring the popular Mosaic hop variety, will get a big marketing push with a video series featuring a 6-pack toting, cartoon skeleton mascot.
New Belgium is also pushing Dayblazer blonde ale in convenience stores such as 7-Eleven. And New Belgium will aim to protect its flagship beer, Fat Tire, which grew 1.5 percent in grocery and convenience stores.
"We don't think it makes sense to take your eye off the main thing, so that's always on our list," Jordan said.
Meanwhile, 2017 is shaping up to be a milestone year for New Belgium, which is poised to break the 1 million barrel mark while completing its U.S. distribution map.
"We're pretty psyched," Jordan said. "That's a big number."
Nevertheless, as the craft beer industry grows, it will become increasingly difficult for the top players and the entire category to show the massive share gains of the past. Part of the reason is that several mid-tier players are reaping the rewards that come from increased money and distribution access.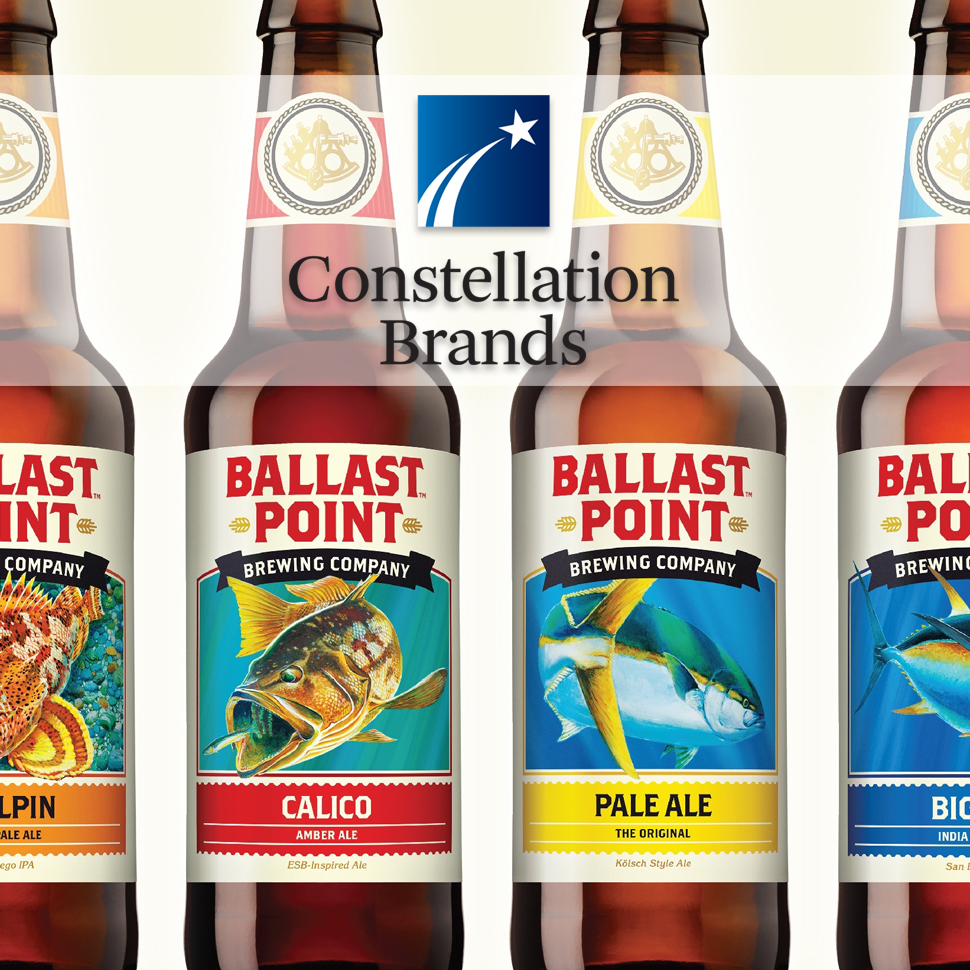 Constellation Brands' sales increased 11.6 percent in convenience and grocery stores thanks to a surge in popularity of Mexican imports and Ballast Point; Founders' All Day IPA saw a 76.7 percent sales spike; Lagunitas' sales of IPA increased 20.5 percent and Little Sumpin' Sumpin' Ale sales rose 45.2 percent; Firestone Walker was driven by a 74.4 percent increase in sales of 805 Blonde Ale; Bell's Brewery sales of Two Hearted Ale were up 38.8 percent while its seasonal beers grew 18.1 percent; and Anheuser-Busch InBev-owned Goose Island saw sales of its IPA grow by 81.7 percent. All of those brands, with the exception of Bell's Brewery's Two Hearted Ale, have private equity or strategic partners or ownership, blowing wind into their distribution sales.
Even smaller brands carving niches in their home markets with hyper-local focuses in on-premise outlets are posing issues for craft's pioneers.
"We're trying to wrap our head around how we can still play in that business," Jordan said.
Still, companies at the top of the craft beer sphere have the advantages of bigger war chests and better distribution reach. Jordan recognizes that her company is playing on a different ballfield.
"In the off-premise, all of the things that we can control serve to benefit us as the category gets more crowded and more confusing," she said.
NBWA chief economist Lester Jones agreed with Jordan's off-premise assessment, saying the path to growing volumes in 2017 is having a "trusted brand" with "great marketplace execution, and strong relationships with their distributors and retailer partners.
"These are some of characteristics for new craft brewers that will translate into consumers coming back for more," Jones said. "The shopping around phase is coming to a plateau, the settling down with core favorite beers is going to be more pronounced in 2017."
How does a mature brewery compete in a crowded and competitive marketplace? The formula will be different for each brewery attempting to stay relevant and grow their business, Jones said.
"You're going to see creativity in free-market capitalism really blossom in this industry as people struggle to stay relevant in what I would say is a relatively flat industry where per capita consumption is going to go down," Jones said. "Don't take that as a bad thing. It's the idea of how creative are these companies going to be and how effectively are they going to develop marketing and sales."
Correction: An earlier version of this story inaccurately suggested that Bell's Brewery had ties to a strategic or private equity partner. Bell's Brewery is an independently-owned craft brewery that has not received funding from a larger foreign or domestic brewery, or a private equity firm. This has been corrected.