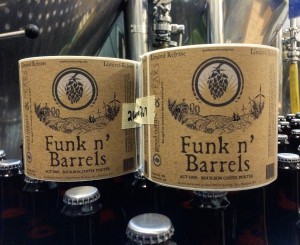 Hamilton, NY – On May 15, 2015 Good Nature Farm Brewery will be releasing ACT 1: Bourbon Coffee Porter in its Tap Room in 10 oz. draft pours and to take home in 750 ml bottles.
Brewmaster and Co-Owner Matt Whalen decided to get the brewery a Valentine's Day gift, but he didn't settle on the traditional dozen roses. He got them 16 instead, in the form of (4) Four Roses bourbon barrels. As a thank you, the brewers loaded them up with a tasty porter and just enough in-house cold brew Columbia-Finca El Ocaso coffee beans courtesy of friends at Peaks Coffee Company in Nelson. Finca El Ocaso translates to "Farm Sunset" which the brewers at Good Nature found too fitting not to use.
The result is a truly intoxicating blend of dark chocolate aromas, a full bourbon nose, notes of espresso, vanilla, maple and amaretto on the finish. At just about 8%, and 48 IBU's, this brew still has a full body and rich mouthfeel capable of handling the balanced cornucopia of flavors. Look forward to ACT 2 coming out of their barrels some time near the end of summer.
About Good Nature Farm Brewery:
Good Nature is a small, independently owned microbrewery & Tap Room located in Hamilton, NY.  We are Madison county's first brewery in 200 years, and are New York State's first Farm Brewery. We handcraft all-natural ales brewed with local ingredients. We collaborate with local farmers, artists, & small businesses to celebrate all that our region has to offer.