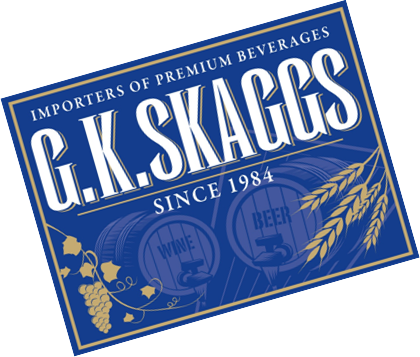 Irvine, CA – Irvine-based G.K. Skaggs, a leading Importer of Premium Beverages is celebrating its 30th anniversary this year. Three decades of experience has transformed G.K. Skaggs from a new venture into a successful, seasoned importer and distributor of quality; wine, beer and spirits. With 6 warehouses, numerous international suppliers and a large professional network of 150+ wholesale distribution partners, G.K. Skaggs has become a diversified beverage industry leader.
G.K. Skaggs was founded in 1984 as an importer of premium beers from Europe and Latin America. By 2000, the company began expanding and diversifying its business, which included creating its own trademarked brands for sale and distribution in the United States. These brands allowed G.K. Skaggs to grow and maintain relationships with national grocery chains such as, Trader Joes, Albertsons, Safeway, Aldi and Kroger. For these national grocery chains, G.K. Skaggs has created and launched notable control label brands such as Cerveza Caguama, which can still be found in Kroger supermarkets and their divisions.
Today G.K. Skaggs has evolved into a diverse beverage company. The company highlights its ability to import and distribute high quality beverages, create successful control beer and wine label programs and enjoy full ownership of its own beer and wine products. Its private and branded portfolio includes wine, spirit and beer brands from every continent.
The expertise G.K. Skaggs has developed over the last 30 years has been instrumental in creating long lasting business relationships with grocery chains, wholesale distributors and suppliers from around the world. G.K. Skaggs has imported millions of cases of premium products, which have reached countless numbers of satisfied consumers throughout the United States.
"We at G.K. Skaggs are thankful to our many business partners for making this special anniversary possible," said Gregory Skaggs, President of G.K. Skaggs. "We look forward to continuing to serve our valued customers for many years to come."
About G.K. Skaggs:
2014 marks G.K. Skaggs' 30 years of beer and wine imports and distribution. Founded in 1984, G.K. Skaggs has become a nationally recognized top 10 importer in the US. It specializes in the sales, marketing and distribution of Premium and Specialty Imported beers and wines across the United States. The company's portfolio includes top quality wine and beer imports from Europe, Latin America, Asia and the Pacific Regions. G.K. Skaggs is a longstanding member of various Industry Associations, such as; NBWA — National Beer Wholesalers Association, CBBD — California Beer and Beverage Distributors, PLMA — Private Label Manufacturers Association, the IBA — International Beverage Alliance and WSWA — Wine & Spirits Wholesalers Association. With customer service and product quality as their top priority, G.K. Skaggs continues to stay ahead of the industry. For more information on G.K. Skaggs, please visit http://www.gkskaggs.com or the company's Facebook and Twitter pages.