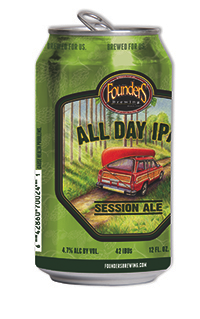 Founders Brewing is about to make a $35 million bet on its projected growth over the next five years.
The Michigan-based craft brewery announced Tuesday that it will expand its production facility in Grand Rapids, adding 57,000 sq. ft. of brewing, fermenting and office space in two phases.
The project — which is expected to cost $35 million and will take more than two years to complete — will enable the company to eventually brew upwards of 900,000 barrels annually, brewery co-founder Mike Stevens told Brewbound.
"We are still planning it to be all debt financed and we are working through that process now," he said. "We have a few banks that are fully committed."
Founders had originally estimated the expansion would bring brewing capacity to 600,000 barrels and cost $20 million.
An official groundbreaking date is set for October but is contingent on city and state incentives, Stevens said.
The company expects to brew 207,000 barrels of beer this year, and is forecasting 300,000 barrels of production in 2015.
The first phase of construction will involve the addition of approximately 37,000 sq. ft. of brewing and fermentation space, and will include the installation of a new 300-barrel brewhouse. Capacity will immediately jump to 400,000 barrels, Stevens said.
After a six-month break, the company will begin the second phase of construction, which includes the addition of 20,000 sq. ft. of space for fermentation and packaging equipment.
"We want to get our feet wet with the new capacity and work hard on our existing markets," he said. "We have barely penetrated the chain channels and we have a lot of work ahead of ourselves."
Once complete, the second phase will boost production capacity to 600,000 barrels and is capable of being scaled to 900,000 barrels. The company said it plans on growing production to over 750,000 barrels in the next five years.
"We see some really rapid growth for us over the next three-to-five years," Stevens said. "We have a lot of opportunity ahead of us."
It's not totally inconceivable that Founders could more than triple its production in such a short amount of time, either. Production volumes have grown at a compounded annual growth rate of 42 percent over the last five years, Stevens said.
But in order to grow that quickly, the company said it will need to focus 'extensively" on its retail chain business and will also have to expand its distribution footprint.
"When we look at our white space, we are looking towards our existing markets in the next two years," Stevens said. "We'll start some new expansions in Western territories in 2016, 2017 and 2018."
And what happens if craft growth comes to a screeching halt?
"We are a highly analytical company and we have looked at those models," Stevens said. "We have looked at what it looks like after we take our $35 million in debt and business stops at 400,000 barrels. We can afford that. We are calculating our risks very methodically."
In recent weeks, rumors have circulated that Founders might be considering a private equity transaction to help finance the project. Stevens told Brewbound that while he routinely has conversations with experienced financial professionals, he was 100 percent confident that the company's current expansion efforts would be bank-financed, adding, "We wouldn't be doing our jobs if we didn't look at all of our options."