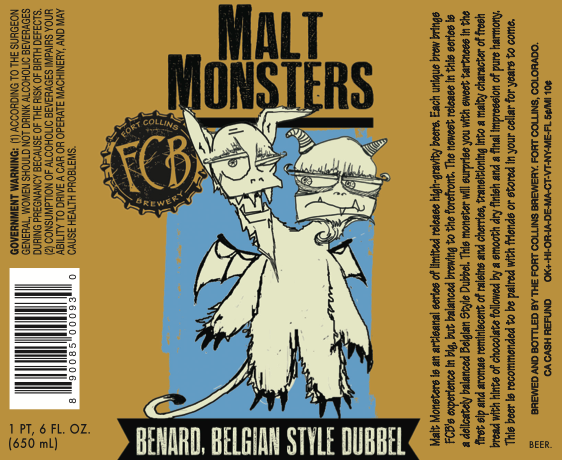 Fort Collins, Colo. — The Fort Collins Brewery, along with Gravity 1020 Modern Tavern is excited to announce the release of Benard, Belgian Style Dubbel, the second character in the Malt Monster Bomber Series Friday, July 18th.
Benard, Belgian Style Dubbel is a delicately balanced brew that will surprise you with sweet tartness in the first sip and aromas reminiscent of raisins and cherries. Benard transitions into a malty character of fresh bread with hints of chocolate followed by a smooth dry finish and a final impression of pure harmony.
ABV: 8.2% IBU: 20 SRM: 14
The Malt Monster (MM) is an artisanal bomber series of limited release high-alcohol beers. Each unique brew, which features its own monster, brings FCB's experience in big, but balanced brewing to the forefront. This beer is recommended to be paired with friends or stored in a cellar for years to come.
"We've seen the excitement and enjoyment that Wallace has brought to the craft beer market and we're thrilled to roll out the next monster and keep the enthusiasm going," said FCB's Marketing and PR Coordinator, Kaylee Kulich.
Benard follows MM's first monster Wallace, Wee Heavy, which kicked off the series April 2014. The rotational limited releases are available in bombers and on draft throughout FCB's 21 state distribution territory. Barnaby, Barley Wine the third edition of the MM series is set to release in October 2014.
Malt Monster merchandise and pint glasses can be purchased custom to each monster at FCB, Gravity 1020 or on their online store at http://www.fortcollinsbrewery.com/new-store/.
The Fort Collins Brewery is a family-owned, hand-crafted brewery in Northern Colorado, since 2004. FCB also offers the only full-size restaurant inside a production brewery, Gravity 1020 Modern Tavern, in Fort Collins, Colo. For more information, visit fortcollinsbrewery.com or call 970-472-1499. FCB Tasting Room is open Friday and Saturday from 11 a.m. to 7 p.m. Tours run both days from noon to 6 p.m. at the top of the hour.