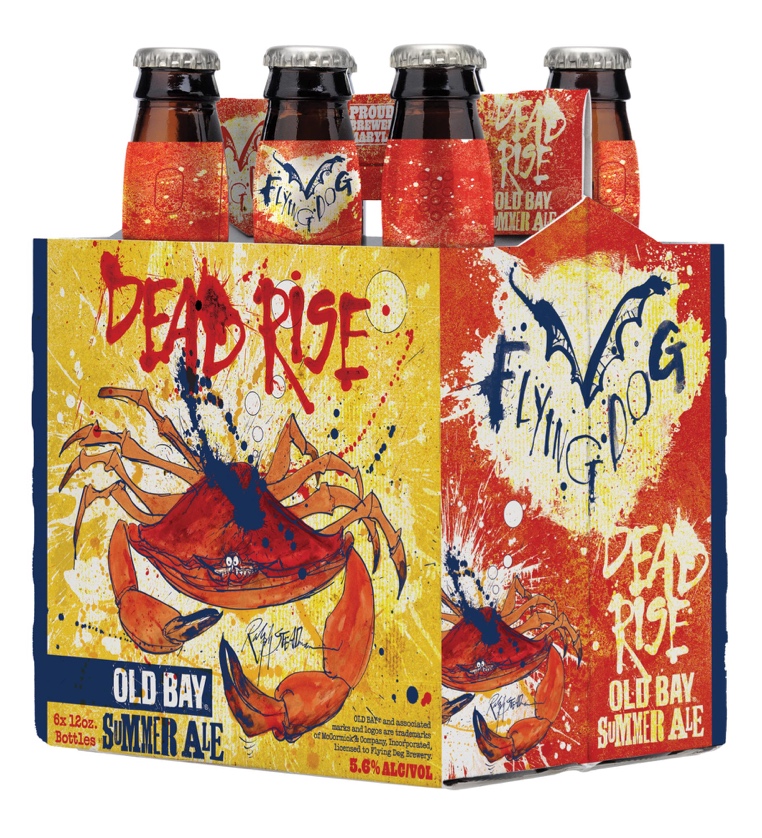 Frederick, MD – Flying Dog Brewery's smash success – Dead Rise OLD BAY® Summer Ale – is back by (extremely) popular demand. The beer will premiere at Oriole Park at Camden Yards for opening day on Friday, April 10 and will be available throughout the East Coast through the end of September.
Brewed last year to commemorate the 75th anniversary of the iconic Maryland seasoning, demand for the beer exceeded everyone's expectations, a benefit for both Flying Dog and the watermen of the Chesapeake Bay.
Last year, over $10,000 from proceeds of Dead Rise were awarded to the True Blue Program, which advocates on behalf of the Maryland Blue Crab industry and the 5,500 watermen working the Chesapeake Bay.
Now in its fifth year, the True Blue program created a $7 million increase in business for local crabbers in its first year alone through a restaurant certification and consumer awareness program.
"True Blue assists all aspects of the crabbing industry," Steve Vilnit, director of fisheries marketing for the Maryland Department of Natural Resources and head of the True Blue program said. "In addition to a decrease in the number of commercial crabbers, the number of crab processors has dropped by over 70 percent since the 1950s. These picking and packaging houses are not only critical to the crabbing industry, they're essential in preserving the history and tradition of the Chesapeake Bay."
Proceeds from this year's Dead Rise OLD BAY Summer Ale release will again benefit True Blue. And Flying Dog plans to expand distribution of Dead Rise to the entire state of Virginia, Pennsylvania, Delaware, New Jersey, New York, Ohio, West Virginia and North Carolina, along with export to the United Kingdom. In 2014, the beer was available in Maryland, Washington, DC and Northern Virginia.
"In 25 years, we've never seen more demand for a craft beer, even before it was released," Flying Dog CMO Ben Savage said. "To be able to send the beer to new markets, which have healthy amounts of Maryland pride, is really exciting."
At the beginning of 2014, Flying Dog's brewers worked with the flavor experts at OLD BAY for over 6 months to develop the recipe for Dead Rise, which subtly highlights the seasonings indelible character with delicate citrus flavors and a clean finish.
"The recipe for 2015's Dead Rise is unchanged, but we do have a special project planned for this later year," Flying Dog Brewmaster and COO Matt Brophy said.
Using the new-to-market OLD BAY Hot Seasoning, Brophy and team plan to release a Double Dead Rise version of the beer in July. It will be exclusively available in Flying Dog's brewery tasting room in Frederick.
"The original recipe for Dead Rise is all about balance between the seasoning we all know and love and refreshing citrus," Brophy said. "It will be fun to play around with ramping up the OLD BAY."
Also new this year is Dead Rise Restaurant Week, planned for mid-June, where this year's Baltimore chefs featured in the Dead Rise OLD BAY Cookbook will serve their cookbook contributions all week long. Details on Dead Rise Restaurant Week will be released in mid-May.
About Flying Dog Brewery:
As one of the fastest-growing regional craft breweries in the mid-Atlantic, Flying Dog has been brewing world-class beer that pushes the confines of traditional styles for almost 25 years. Flying Dog attracts everyone from craft beer connoisseurs to those just catching the wave with up to 20 styles available at any given time and its Gonzo ties to writer Hunter S. Thompson and artist Ralph Steadman. Named the Mid-Size Craft Brewery of the Year at the 2009 Great American Beer Festival (the highest honor for its size in the United States), recent accolades for Flying Dog include its Pale Ale ranked as the #1 American Pale Ale in the U.S. by The New York Times. For more information, please visit www.flyingdogbrewery.com.