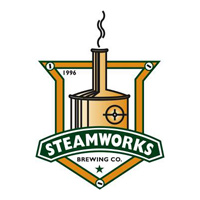 DURANGO, CO — Steamworks Brewing Co. continues its special monthly "firkin" tapping on Friday, Jan. 4, 2013, featuring, a brew with "sweet heat" for the depths of winter — Chili Cherry Chocolate Bar. The cask will be tapped at 3 p.m.
"As the name implies, the Chili Cherry Chocolate Bar is conditioned with three kinds of dried chilies and dried cherries, which were all rehydrated in the base beer, an Imperial Stout," said Steamworks Brewer and Certified Cicerone® Spencer Roper. "Look for a balance between bitter from the roasted malts in the beer, tartness from the cherries, and a sweet heat from the chilies."
A firkin is an old English unit of volume, typically a wooden cask equal to approximately one-quarter of a regular barrel, or nine gallons. Unlike most draft beers, firkin beer is unpasteurized, unfiltered and naturally conditioned or carbonated, it its cask. According to Steamworks Brew Master and Certified Cicerone® Ken Martin, the yeast transforms the sugar into alcohol within the cask, and carbonation results from the trapped carbon dioxide occurring as a byproduct.
"Firkins, once tapped, are meant to be enjoyed right away," said Martin, noting that given the popularity of the specialty firkin beers, the contents of the casks are quickly consumed. "The Chili Cherry Chocolate Bar will be gravity-poured and served at approximately 55 degrees — cool, not cold, but it certainly will provide a pleasant warmth on what is likely to be a chilly January afternoon."
Steamworks initiated its Firkin Fridays to introduce unusual, specialty craft beers to patrons, and augment its regular, award-winning offerings.
Open 11 a.m. to closing seven days a week, Steamworks Brewing Co. is located at 801 E. Second. Ave., Durango (970.259.9200). For further information, visit www.steamworksbrewing.com.