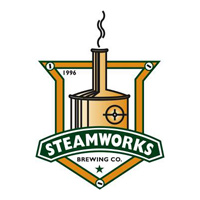 DURANGO, Colo. — Firkin Fridays continues at Steamworks Brewing Co. on Friday, May 3, 2013, with the introduction of a unique brew: "Cherry Cinders." The firkin cask will be tapped at 3 p.m.
The specialty firkin will have a base of Steamworks' award-winning, flagship beer, Colorado K├Âlsch, a light, crisp ale with a hint of fruitiness, refermented with Belgian yeast.
"We added a small amount of smoked malt, made into a 'tea,' to the cask because we're into experimentation," said Steamworks Brewer and Certified Cicerone® Spencer Roper. "That's where the 'cinders' come into play."
"And for the cherry, we will be adding both sweet and sour cherries to the K├Âlsch base," said Steamworks Brew Master and Certified Cicerone┬« Ken Martin."The final touch will be the Belgian yeast that will consume the sugar from the cherries, and give the beer a little spice character as well."
A firkin is an old English unit of volume, typically a wooden cask equal to approximately one-quarter of a regular barrel, or nine gallons. Firkin beer is unpasteurized, unfiltered and naturally carbonated, or conditioned, it its cask. It is served at approximately 55 degrees – cool but not cold, and because it contains no preservatives, it's designed to be consumed after tapping. Steamworks initiated its Firkin Fridays to introduce unusual, specialty craft beers to patrons, and augment its regular, award-winning offerings.
"Firkin Fridays have now become an 'event' each month," added Martin. "The growth in popularity has come as more people discover the opportunity to sample a unique brew that they truly can't get anywhere else."
Steamworks Brewing Co., open 11 a.m. to closing seven days a week, is located at 801 E. Second. Ave., Durango (970.259.9200).